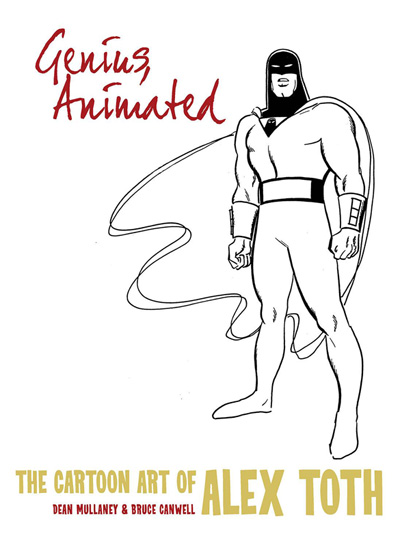 Bruce Canwell is the Associate Editor of The Library of American Comics and has written introductions for many of their collections of classic comic strips. He's also written the text for their three volume series focusing on the work of legendary artist Alex Toth; Genius, Isolated; Genius, Illustrated; and the upcoming Genius, Animated. Westfield's Roger Ash recently contacted Canwell to learn more about what's in store for Genius, Animated.
Westfield: Why do a book on just Toth's animation work?
Bruce Canwell: Our original plan was to do one book on Alex Toth, similar to our earlier Scorchy Smith and The Art of Noel Sickles biography — but you know what they say about the best-laid plans! It quickly became clear a single book wasn't going to be practical, because Alex's life and career were too jam-packed and moved in too many directions, and there were so many folks who had "Alex stories" to tell or incredible original Toth artwork to share.
So while we were at New York Comic Con in 2010 Dean [Mullaney, The Library of American Comics' Creative Director] suggested we turn the book into a trilogy. In between talking with the public about LOAC and directing would-be artists to the other side of the IDW booth for portfolio reviews, we reimagined the Toth project: we decided two volumes would cover the biographical examination of Alex and his career, while the third volume should be an artbook, jam-packed with great Toth visuals.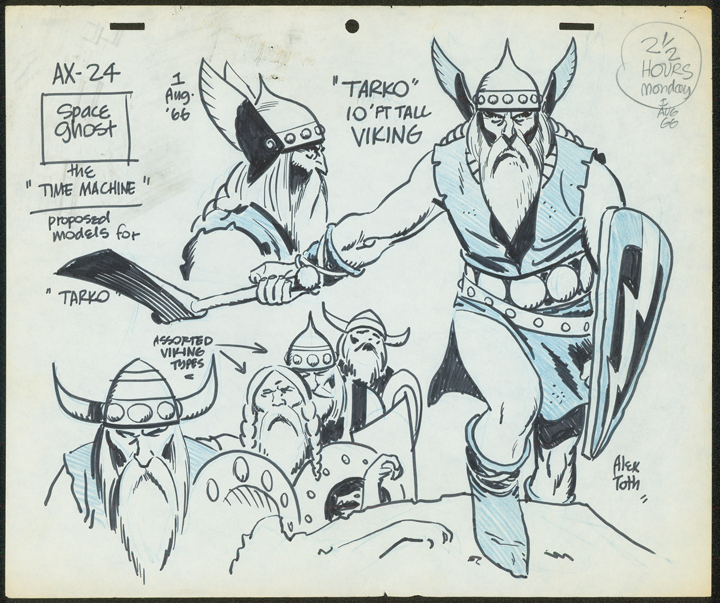 Why focus our artbook on Alex's work in animation? Well, years ago one of Toth's friends collaborated with him on a book called Alex Toth By Design, which was filled with cartoon model sheets and storyboards, but it became somewhat notorious because Hanna-Barbera owns the rights to characters like Space Ghost and Sealab 2020, but no one involved with By Design got H-B's permission to include their characters. As a result the book went out of print relatively quickly and has become something of a Holy Grail among Toth collectors — in years past I've seen copies selling in the used book market for over a thousand dollars, though these days copies are offered up for "only" two or three hundred bucks a pop. We thought, after all this time, it would be a good idea to do an official book of Toth animation art. We approached Hanna-Barbera and they not only gave us permission, they offered us access to all the Toth art in their archives, including rare presentation pieces and other work many fans have never seen. That clinched it for us! It became a no-brainer to make Genius, Animated the final book in our trilogy.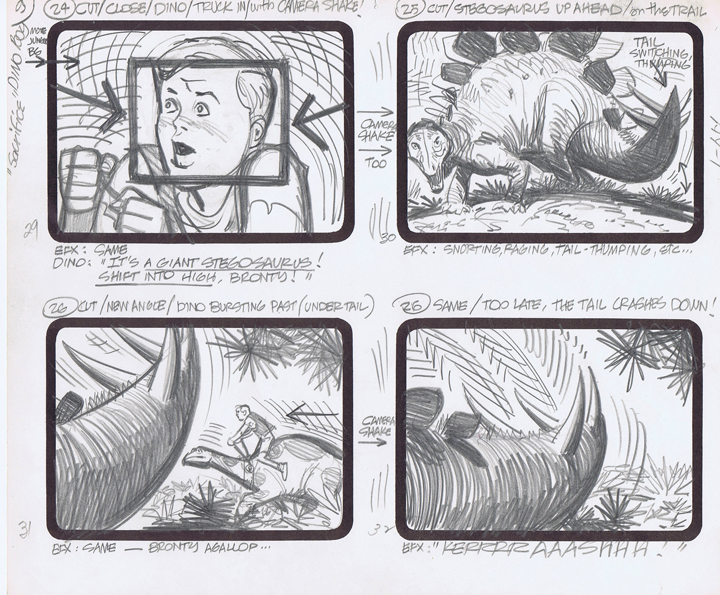 Westfield: You did a biography of Toth in the first two volumes of the series. What can readers look forward to in the text for this book?
Canwell: If I've done my job properly, in terms of tone and structure Animated will read very much like Genius, Isolated and Genius, Illustrated. In terms of content, while Animated contains more of those great Toth anecdotes everybody loves, this is a less emotional book than the first two. Instead, I have to provide a certain amount of background information on the animation industry as Toth progresses through it — it's not enough to say, "And then Alex moved to doing designs for Ken Snyder," I have to explain a bit about who Ken Snyder is, how he built his studio, and how that studio grew explosively when it landed a deal to produce Hot Wheels and Skyhawks for ABC. I'm told I do a pretty decent job with "framing" that sort of information, presenting it in an entertaining way — so I have my fingers crossed I'll be keeping that streak going in this book!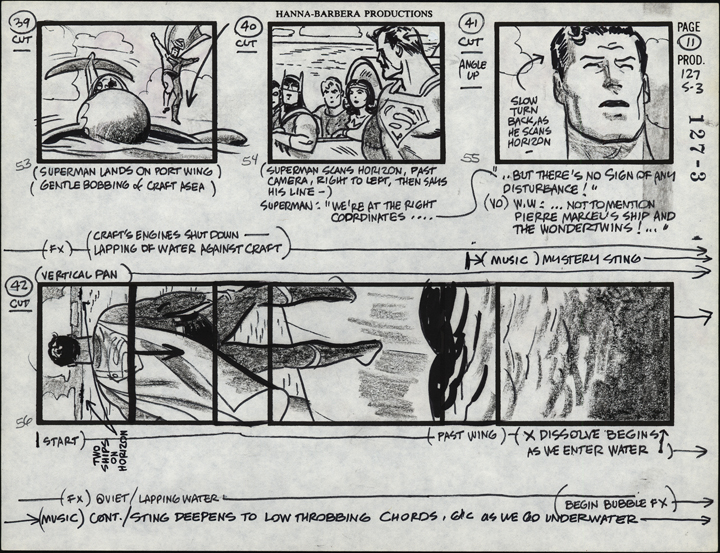 You know, Roger, by the time Genius, Animated goes on sale I'll have devoted a sizable chunk of my last five years to the subject of Alex Toth and I will have written almost one hundred thousand words about him. I've keenly felt the responsibility to Get It Right, and I'm grateful that the four Toth children are more than kind in their praise for the balanced way I've presented their father's story, I'm humbled when friends of Alex say they shed tears while reading about his professional and personal struggles … and yes, there's a real fanboy kick when creators I've always admired — guys like Howard Chaykin or the late, much-missed Joe Kubert — have told me how much they enjoy my work on the Toth series. Those are just three of the factors that motivate me not to stub my toe on this third lap of the journey. It's up to each individual reader to decide how well I've delivered the goods, but I've put a lot of thought and a lot of sweat into making Animated as effective in its way as Isolated and Illustrated are in theirs.
Westfield: Of course, the star of this book will be Toth's art. What sorts of things will readers see in Genius, Animated?
Canwell: Sweet Christmas (as Luke Cage used to say), what wonders await in those pages!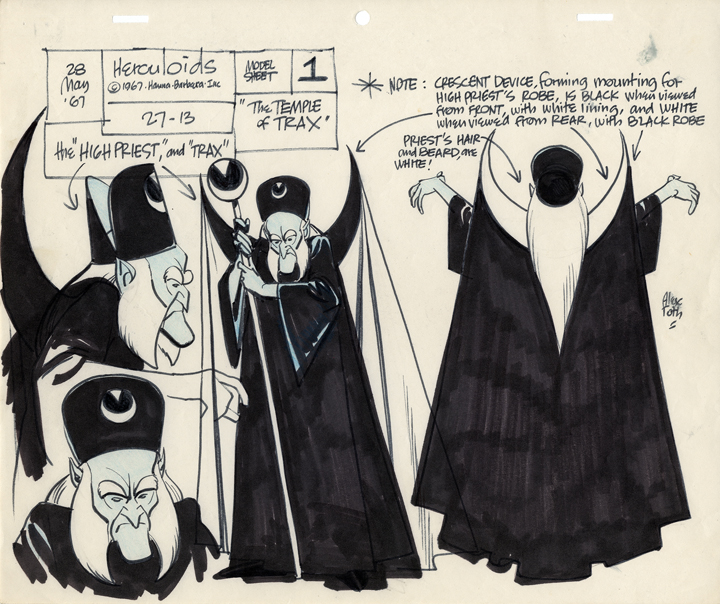 Everyone remembers Space Ghost, Shazzan, The Herculoids, and Super Friends — Alex's contributions to those beloved programs will be well represented. Yet we're also going back to Toth's pre-H-B days with some tasty examples of his character sheets and designs for Space Angel at Cambria Studios, as well as his later work on shows like Hot Wheels, Thundarr, and the Bionic 6.
But the real frosting on the cake? The examples from the Hanna-Barbera archives, so many of them little-known and little-seen by most of us. Wait'll you feast your eyes on this stuff! Did you know H-B developed a pitch for DC's Dial "H" for Hero that never sold? We have Toth art for that. His presentation art for the unproduced Ghost Girl calls up thoughts of his Black Canary comic book work. And how about Farrah Fantastic, from 1978, an unsold cartoon featuring Farrah Fawcett as a superheroine?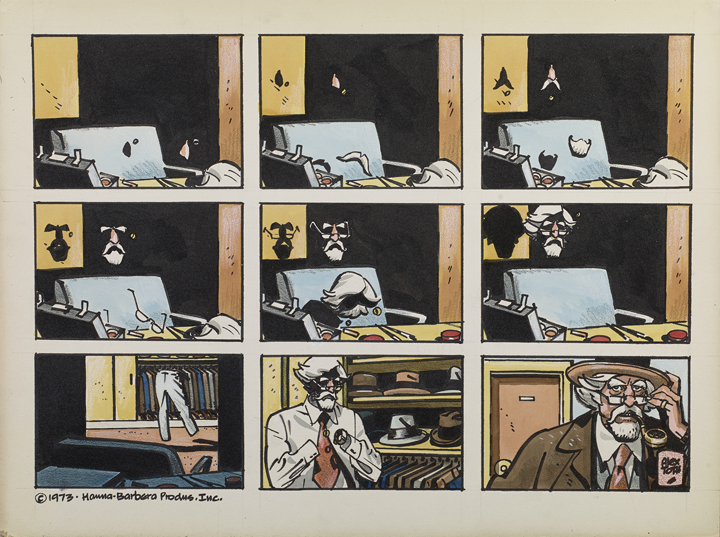 Hero Brigade — The Revenge of the Golden Sphinx — Loch Ness — The Cipher — Homo-Aquaticus … the names alone are great, but when you see the images Alex created for them you'll start imagining the Hoyt Curtin music, the Mike Road or Don Messick voices, and you'll start daydreaming about Saturday mornings that might have been …
As with the two previous Toth books, friends and fans of Alex continue to come forth and offer us treasures from their private collections — just this week we landed some terrific new pieces we had never before seen from any other sources. We all owe a vote of thanks to those collectors who have been so generous with their Toth art; our books would be greatly diminished without their contributions!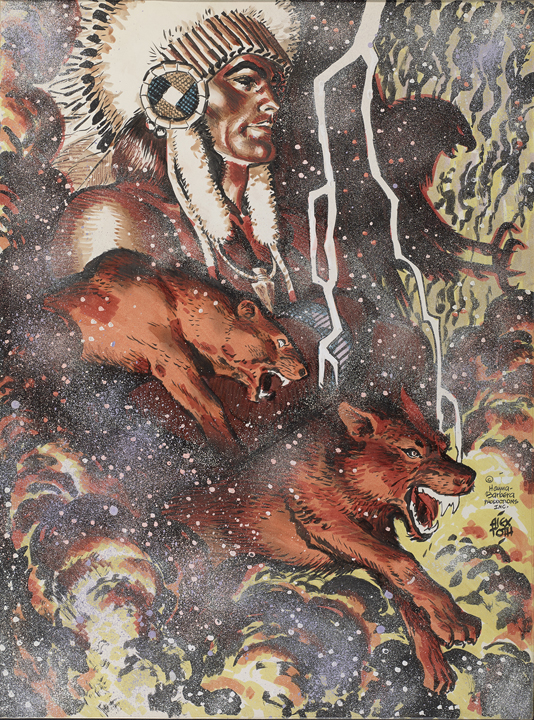 Westfield: Will any of Toth's co-workers during his animation years be contributing to the book?
Canwell: I was a bit surprised at the number of animation professionals we approached who opted not to contribute. Some felt they had previously said all they had to say about Alex, some simply decided they had nothing of interest to offer. Fortunately, we did connect with some really witty and wise pros, many of whom worked with Alex at H-B, Disney, and Pantomime Pictures, so we have plenty of insightful and funny "insider" quotes that pepper the text.
Westfield: Are there any upcoming Library of American Comics books you'd like to mention?
Canwell: As I look back over my shoulder, it's probably worth nothing that the first two books about Alex — Genius, Isolated and Genius, Illustrated — are still on sale, so even readers who are late to the Toth party can still get in on the fun.


Looking ahead, I'm especially excited about answering requests from comic strip fans around the country and bringing Alley Oop to our "LOAC Essentials" line, featuring the pivotal storyline where Our Hero changes from being a prehistoric caveman to a time-traveling caveman. If it sounds wonky, well — it is! But it's also truly charming, imaginative work.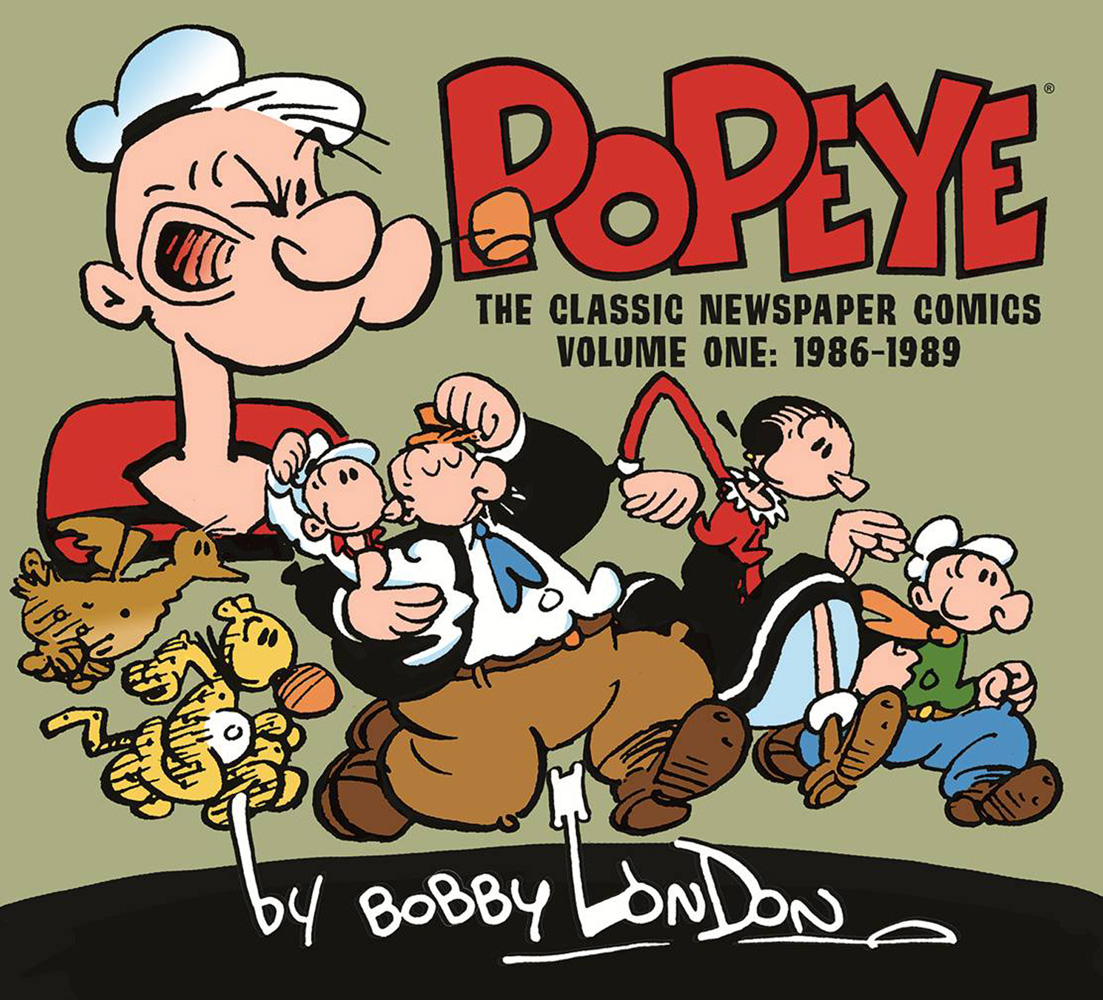 Beyond the "Essentials," as one of the world's great Popeye fans (writing Popeye is still one of my personal Holy Grails), I'm dee-lighted that we're offering up a two-volume set of Bobby London's Popeye strips. The first book in this series will be on sale soon and I recommend it to anyone with an interest in the squinky-eyed sailor. [You can read more about it here. – Roger]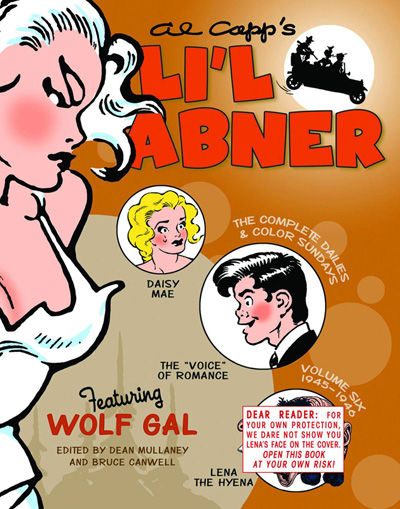 Finally, I'd be remiss if I didn't mention that the Golden Age of Li'l Abner is upon us: Volume 6 in the series features the sexy Wolf Gal and the not-so-sexy Lena the Hyena, plus cameo appearances by many stars whose names are still familiar today (Salvador Dali and Frank Sinatra among them) … and Volume 7 will feature the first appearance of The Shmoos. What are Shmoos? Only the sweetest, cuddliest threat to The American Way in our nation's history! These two entries in our Li'l Abner reprinting serve as Exhibit A and Exhibit B, proving that Al Capp was an absolutely brilliant comics creator.
Westfield: Any closing comments?
Canwell: Well, The Library of American Comics has a handful of Secret Projects cooking that I'd love to talk about — but it's just too early to spill the beans on them. Instead, I'll just say that after this long, cold, snowy winter, I'm ready for baseball to get started again. Good luck to your Cubbies this coming season, Roger!
Purchase