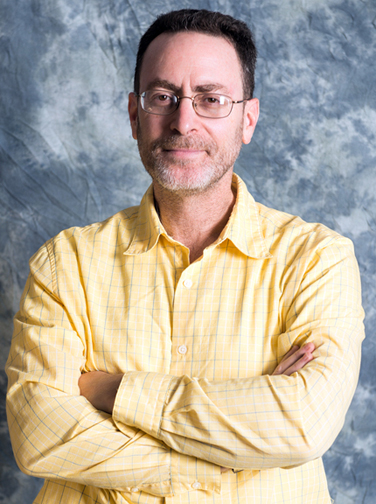 by Robert Greenberger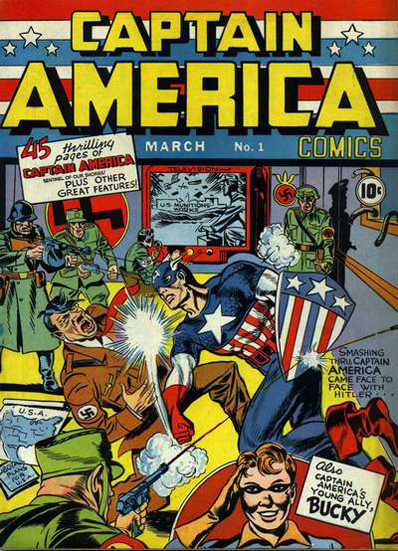 Steve Rogers wanted to fight to protect his country from fascism. Deemed unfit for combat, he was given a unique chance to make a difference. He agreed to become a human guinea pig, subjecting himself to the super-soldier serum and bathed in vita beams to be transformed into a physically perfect specimen. Blond-haired, blue-eyed, he was a far better example of Aryan supremacy than anything Adolf Hitler could offer up. Donning red, white, and blue chainmail, he championed justice in the United States and abroad as Captain America, sentinel of liberty.
That's pretty much his story through the 1940s, and was even true after the Avengers found him encased in ice, resting in suspended animation. He returned to duty a man out of time, but remained every inch the perfect leader and symbol of freedom.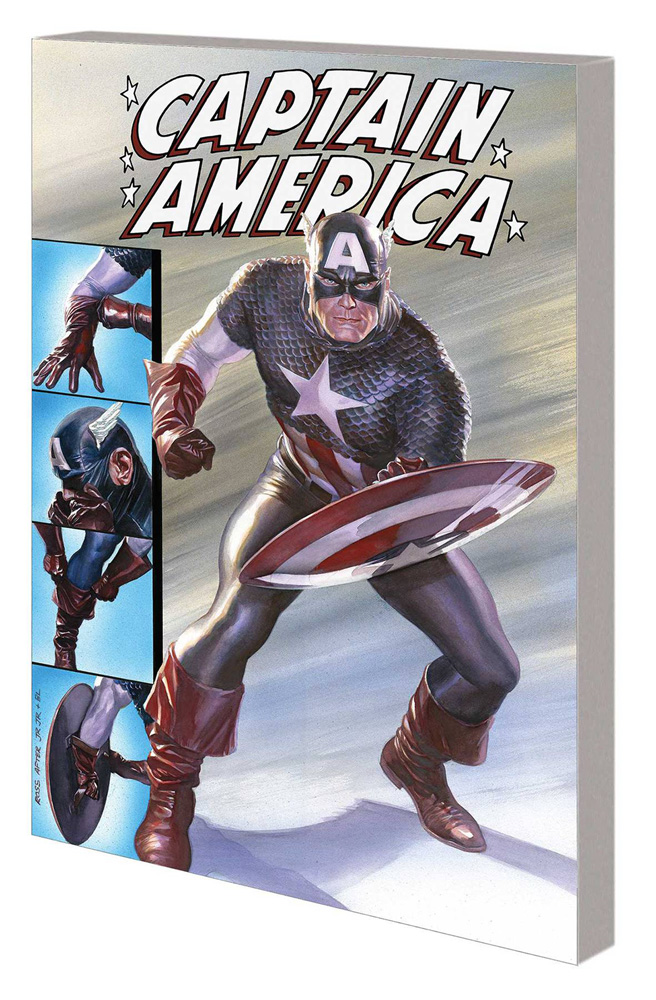 But Cap's modern-day exploits weren't as cut and dried as they were during comics' Golden Age and more than once he questioned his place in the world, the validity of his mission, and role as a symbol. With those themes in mind, Marvel has assembled an interesting collection of stories in Captain America: Evolutions of a Living Legend. After pieces culled from Joe Simon and Jack Kirby's Captain America Comics #1-2, the remainder of the book spans 1974 through today. All told, this is not just a fine sampler of Cap stories, but a chance to see some of comics' greatest writers and artists show their take on the hero.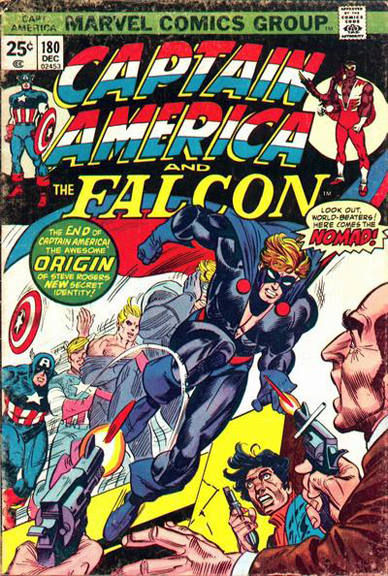 We pick up with Captain America #180 (December 1974) in the wake of the Hidden Empire storyline where he tracked corruption right to the Oval Office. The creative team of Steve Englehart, Sla Buscema, and Vince Colletta dealt with the man's shaken ideals and his no longer feeling like symbolizing a country that has lost its way. Here, Cap remains committed to justice but will now operate as Nomad, a man without a country. No sooner does he don the costume, then he has to deal with Madame Hydra, who has reformed the Serpent Squad.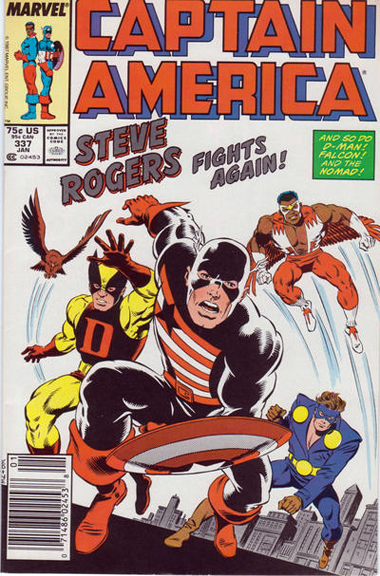 Marvel Executive Editor, continuity maven, and the much-missed Mark Gruenwald spent a decade with his favorite hero. During that run, he put Cap through his paces, including once more putting him in a different guise. When the Commission on Superhuman Activities tried to dictate terms, Steve Rogers returned the uniform and shield in issue #337 (January 1988). They anointed John Walker as the next Captain America, while Steve wore a black, white, and red outfit, began fighting as The Captain. With Tom Morgan and Dave Hunt, Gruenwald explored this turn of events as The Cap led a team of Nomad (Bucky Barnes), D-Man, and the Falcon. The Black Panther kindly provided him with a new vibranium shield for his cause.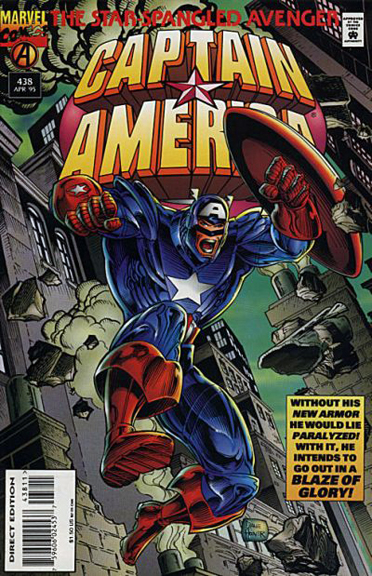 Closing in on the end of his run, Gruenwald began the final arc with issue #438 (April 1995). First, he has to beat Flag-Smasher and Ultimatum, then finally gathers his closest friends and associates and tells them he is dying as his body is being rendered inert by the super-solider formula.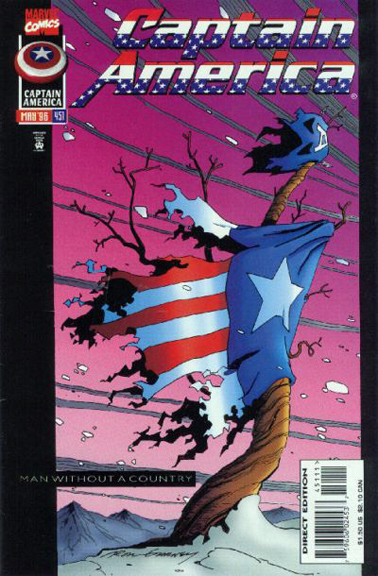 Don't worry, he gets better. But eventually, he is challenged once more as seen in issue #451 (May 1996), with the new creative team of Mark Waid, Ron Garney, and Scott Koblish. As the solicitation copy read, "Exiled to foreign soil by the very country he is sworn to serve, Steve Rogers must don a new costume to clear his name and save the world yet again." He uses the alias of Nathan Hale, a nice nod to the Revolutionary War. The issue also has a great splash that uses bits and pieces from Cap vs. Sub-Mariner from Avengers #4, Cap and Bucky vs. Hydra by Stan Lee and Jim Sternako from issue #113; Cap vs. Deathlok with art by Mike Zeck; Cap vs. a Baron von Strucker robot by John Byrne and Joe Rubinstein, and a shot of Cap and the flag by Frank Miller.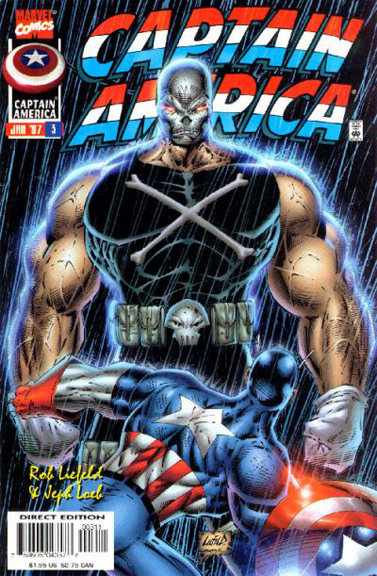 Cap was also reinvented by cosmic forces, including the time Marvel allowed Image creators to package his adventures as seen in Captain America #3 (January 1997) by co-writers Rob Liefeld and Jeph Loeb, drawn by Liefeld and inkers Jonathan Sibal and Lary Stucker. He's stuck on a parallel world he's only just coming to understand when that reality's Red Skull attacks.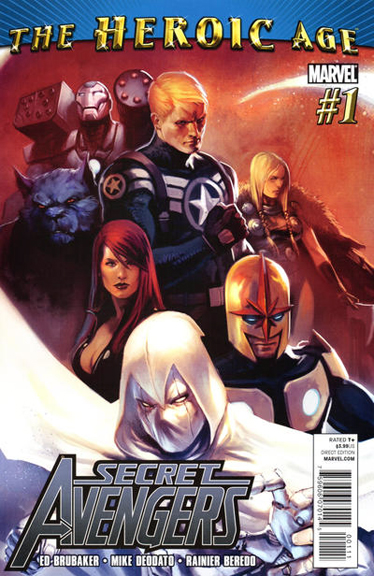 That proved a short-lived reality before he returned to the Marvel Universe proper. But it was a darker world, one that needed different methods to address the growing number of threats. One such variant was a covert ops team dubbed the Secret Avengers. In their first issue, we see Cap has recruited Valkyrie, Black Widow, Beast, Sharon Carter, Moon Knight, Ant-Man (Eric O'Grady, now Black Ant), War Machine, and Nova. This 2010 series was from Ed Brubaker and Mike Deodato, a precursor to the writer's celebrated run on the star-spangled Avenger.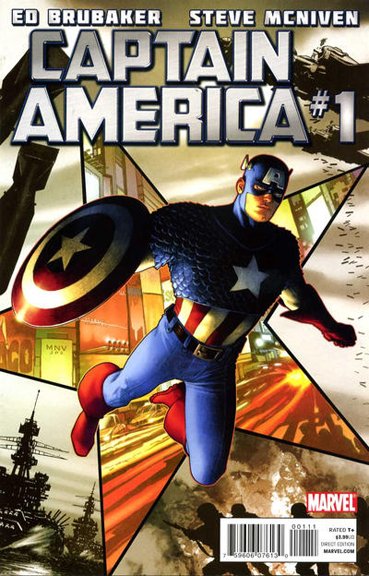 Speaking of which, that Captain America #1 (September 2011) is here with Brubaker and artists Steve McNiven and Mark Morales. We pick up with the death of Peggy Carter and you can see Brubaker sowing the seeds that will eventually sprout with the hero's assassination in issue #25.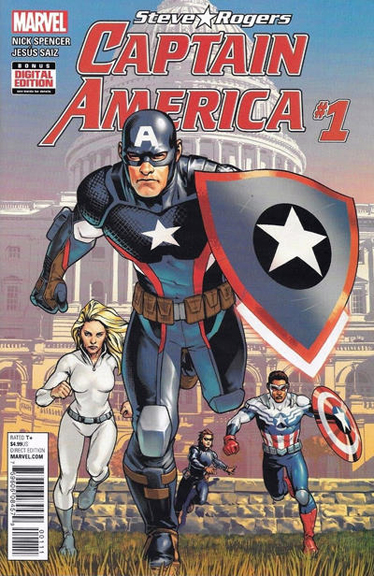 Don't worry, he gets better. But he's in for a wild ride. He spent a long period of time in Dimension Z, a result of Arnim Zola, where he aged and the serum began to break down. When he returned to his proper realm, he was now a fit 90-year old hero. Circumstances restored him to his proper vim and vigor although the government made Sam Wilson the new Captain America. As we pick up with Captain America: Steve Rogers #1, he's back in uniform with a triangular shield and ready for action. But, in the hands of Nick Spencer and Jesús Saiz, we are treated to a funhouse version of Cap, whose reality had been altered by the Cosmic Cube. Now he was the deepest cover Hydra agent of all time, setting up a firestorm of mayhem in the comics and tons of mass media coverage.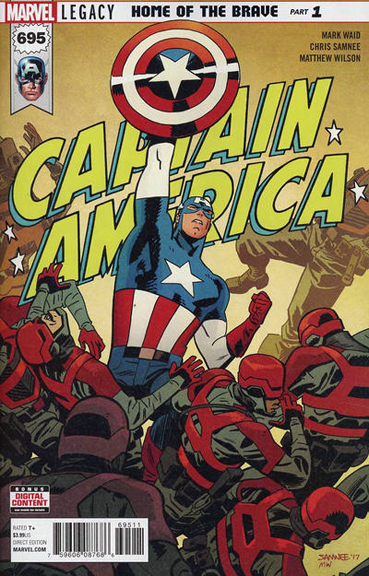 Finally, when reality has been reordered and Cap has lived down his ruined reputation, Waid is back for his third tour of duty in the book's final story, with art by Chris Samnee, from Captain America #695 (January 2018). Things more or less come full circle as Steve Rogers revisits the town he first toured after being resurrected from his ice block.
Cap has been through a lot and will continue to be tested but what this collection demonstrates is his resilience and belief in the ideals of America, never giving up on the country and protecting both it and the rest of the world from dangers in all shapes and sizes.