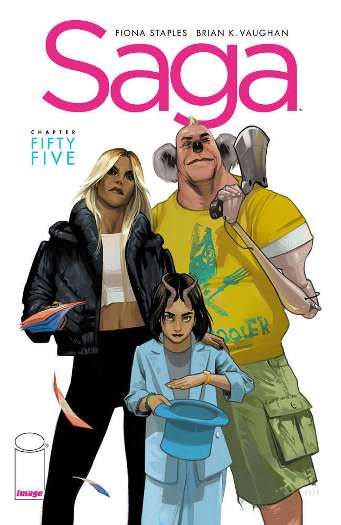 It's official: Saga is coming back! Brian K. Vaughan and Fiona Staples' best-selling and critically series from Image Comics that's been in an "intermission" since 2018 finally returns this January!

Vaughan made the surprise return announcement at his panel during New York Comic-Con 2021 alongside co-creator Staples, who joined via video chat. The award-winning sci-fi comic will soon begin the second half of its story that'll lead to its eventual finale. Issue #55 will end the long hiatus, and fittingly kick off a brand new story arc. And even better, it'll be a double-length, 44-page issue, priced at $2.99.

The cover shown indicates that we've got ourselves a time skip, made clear by an older Hazel and Alana. But who's the ax-wielding fella with them? We'll have to wait and see when Saga #55 hits the shelves on Wednesday, January 26, 2022!