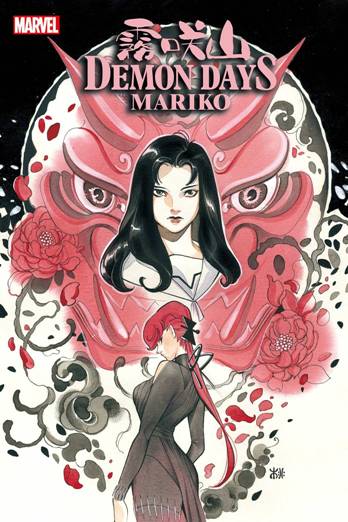 Please note: Due to an unexpected delay, this week's DC Comics releases will not be available this week on Tuesday, June 15.
At this time we haven't gotten an exact day and time from Lunar Distribution. Late Tuesday is still a possibility but sometime during the day on Wednesday, June 16 is also possible.
Please feel free to check with us over the next day or two for updates. We'll send out more information if we have it with Tuesday night's usual sunscription notifications. Thanks for your understanding and sorry for any inconvenience.
MARVEL COMICS
Alien #4
Captain America Annual #1
Captain America Bicentennial Battles TP: New Treasury Edition
Fantastic Four #33
Heroes Reborn #7 (of 7)
Heroes Reborn: Weapon X & Final Flight #1
Journey Into Mystery By Gillen TP Vol. 1 Complete
Marvel Spider-Man: Swing Into Action SC
Marvel Titan Hero: Captain America Falcon 12-inch AF
Mighty Valkyries #3 (of 5)
Miles Morales Spider-Man #27
New Mutants #19
Planet-Sized X-Men #1
POP! Falcon And Winter Soldier John Walker Vinyl Fig
Power Pack Classic Omnibus HC Vol. 2
Power Pack TP: Powers That Be
Shang-Chi 12-inch Titan Hero AF 202101
Spider Man Little Golden Book Favorites
Star Wars #14
Thor By Donny Cates TP Vol. 2: Prey
Thor By Jason Aaron Complete Collection TP Vol. 3
Venom #35 200th Issue
Vinyl SODA: Endgame Iron Man
Vote Loki TP New Printing
X-Corp #2
X-Men Demon Days: Mariko #1
DC COMICS
Absolute Swamp Thing By Alan Moore HC Vol. 3
Batman Fortnite Zero Point #5 (Of 6)
Batman HC Vol. 3: Ghost Stories
Catwoman #32
Flash #771
Future State: Next Batman TP
Legends Of Dark Knight #2
Nightwing #81
Pocket POP! Wonder Woman 80th WW Challenge Of The Gods
POP! Heroes Wonder Woman 80th WW: The Contest Vinyl Fig
Represent #1
Scooby Doo, Where Are You? #110
Static: Season One #1
Supergirl: Woman Of Tomorrow #1 (of )
Superman: Red & Blue #4 (of )
Teen Titans: Beast Boy Graphic Novel HC
Truth & Justice #5
Vinyl SODA DC: Captain Cold
IMAGE COMICS
Compass #1 (of 5)
Geiger #1 4th Printing
Geiger #2 2nd Printing
Good Asian #1 2nd Printing
Home #3 (of 5)
Ice Cream Man #24 2nd Printing
Jim Lives! Mystery Of The Lead Singer Of The Doors TP
Jupiter's Legacy: Requiem #1 (of 12)
Radiant Black #4 2nd Printing
Radiant Black #5
Silver Coin #3
Stillwater By Zdarsky & Perez #8
Time Before Time #1 2nd Printing
Time Before Time #2
Ultramega By James Harren #4
Walking Dead Dlx #17
BOOM! STUDIOS
Angel & Spike TP Vol. 2
Brzrkr (Berzerker) #2 3rd Printing
Brzrkr (Berzerker) #3 (of 12)
Firefly: Brand New Verse #4 (of 6)
Jim Henson's Storyteller: Tricksters #4 (of 4)
Luna #5 (of 5)
Many Deaths Of Laila Starr #3 (of 5)
Save Yourself #1 (of 4)
Seven Secrets #9
DARK HORSE
Grendel: Devil's Odyssey #7 (of 8)
House Of Lost Horizons #2 (of 5)
Neil Gaiman's Norse Mythology II #1 (of 6)
Rangers Of The Divide #2 (of 4)
DYNAMITE ENTERTAINMENT
Black Terror Dark Years TP
Sacred Six #10
Sonjaversal #5
IDW PUBLISHING
Beauty Of Horror Color Your Destiny Tarot Deck
Beauty Of Horror Fear Your Future Tarot Deck
GI Joe A Real American Hero #283
Godzilla Monsters & Protectors #3
Sonic The Hedgehog #41
Star Wars: High Republic Adventures #5
Transformers: Escape #4 (of 5)
Usagi Yojimbo #20
Voyage To The Stars TP
OTHER PUBLISHERS
21st Century Boys GN Vol. 1 Perfect Ed Urasawa
Aggretsuko Meet Her World #3
Alter Ego #170
Anime Heroes Naruto Naruto 6.5-Inch AF
Ascencia #5
Back Issue #127
Battler Britton Pratt War Picture Library HC
Black Cotton #3 (Of 6)
Black Friday #3 (Of 3)
Black Terror: Dark Years TP
Bob's Burgers: Greetings From The Wharf 1000-Piece Puzzle
Carmen Sandiego GN Vol. 4: Need For Speed Caper
Chasing The Dragon #4 (Of 5)
Cimmerian: Iron Shadows In Moon #3
Cold Dead War #3 (Of 4)
Compass #1 (Of 5)
D&D RPG Van Richtens Guide To Ravenloft HC
Destiny NY #4
Doctor Who: Missy #3
Fist Of The North Star HC Vol. 1
Godzilla Classic Godzilla 11-inch Figure
Godzilla Classic: King Kong Skull Island 11-inch Figure
Godzilla Gallery: 1991 King Ghidorah Dlx PVC Figure
Great Gatsby #1
Heart-Shaped Tears One Shot
House Of Lost Horizons #2 (Of 5)
Judge Dredd Guatemala TP
Kaiju Score TP Vol. 1
Kitty Quest GN Vol. 1
Learn To Draw Manga Men SC
Legend Of Auntie Po GN
Maison Ikkoku Collectors Edition TP Vol. 4
Minky Woodcock: Girl Who Electrified Tesla #3
Monster Friends YR GN
Montana Diary One Shot
Ninja High School #180
Nottingham #1 (Of 5) 3rd Printing
Nottingham #4 (Of 5)
One Shot Story Of Bullying GN
Ooku Inner Chambers GN Vol. 18
POP! Games Pokemon S6 Bulbasaur Sv/Mt Vinyl Fig
POP! Games Pokemon S6 Meowth Vinyl Fig
POP! Games Pokemon S6 Pikachu Attack Stance Vinyl Fig
POP! Games Pokemon S6 Psyduck Vinyl Fig
POP! MLB Brewers: Christian Yelich Road Uniform Vinyl
Project Patron #3
Resistance Uprising #3
Resonant #10
Retrofan Magazine #15
Sacred Six #10
Save Yourself #1 (Of 4)
Seven Swords #1
Show Me History! Helen Keller Inspiration To Everyone
Silver City #2
Space Pirate Capt Harlock #1
Stake #4
Star Trek: Picard Season One Trading Cards
Triage X GN Vol. 21
Vampiress Carmilla Magazine #4
Visitor #6 (Of 6)
Walt Disney's Fox & Hound Little Golden Board Book