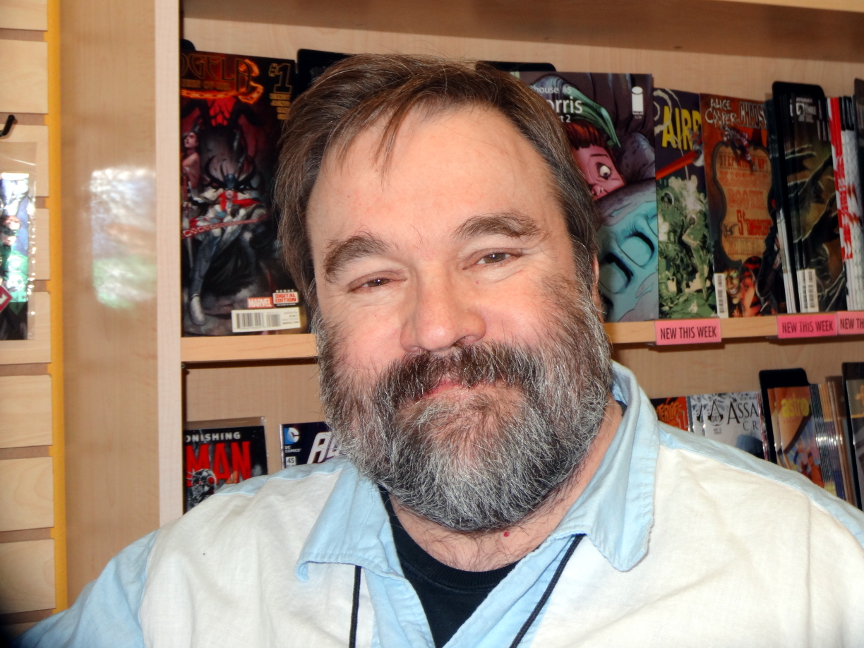 by Wayne Markley

For almost 50 years, the swamps of Louisiana have been home of the muck monster known as Swamp Thing. Over the course of the history of Swamp Thing, he has gone from one of the greatest books of its time (under Len Wein and Bernie Wrightson) to a so-so period to his resurrection as one of the greatest books again under Alan Moore (and followed by Rick Veitch). Since then he has gone up and down with a few really good stories. The swamp monster, early in his run, expanded beyond the south going to Gotham and, over his history, it has been revealed that he is an earth elemental and a major force in the world and has been a member of a number of different teams with in the DC Universe. To cover his entire career would take three blogs, but I am going to focus on just a few recent collections reprinting some of his most important runs.
I should mention that over the years the character of Swamp Thing has changed dramatically, as has his background and abilities. His origin has always been (well, this has always been at least part of the origin story) the story of Alec Holland, a scientist working on a secret formula to help food shortage problems, in the hidden swamps of the Louisiana with his wife Linda. There was an explosion killing them, except Alec does not die but becomes one with the swamp and is resurrected. There have also been movies and numerous television shows based the character, some better than others (the most recent being very good), yet there is not currently a traditional monthly Swamp Thing book nor has there been one in quite a while.

Swamp Thing first appeared as a short story in House of Secrets #92 in 1971. He got his own book in 1972 and it ran for 24 issues. There was a planned 25th issue but it never saw print. (Although Overstreet listed a 25th issue for years and thus I spent years looking for it, of course never finding it. I finally asked Len Wein about it and he told me it was never published, at least at that point.) All of these first 24 issues and Saga of Swamp Thing 1-19 and the annual (plus House of Secrets #92) were collected in one deluxe hardcover omnibus which comes in at over 700 pages in full color. Since then this omnibus has been reprinted as two paperback collections called the Swamp Thing: The Bronze Age Vol. 1 and 2. These two trades are cheaper than the Omnibus but the omnibus does include the first 19 issues of the Saga of Swamp Thing. On the other hand, the paperback versions are easier to read than an oversized hardcover and volume two includes the never before published Swamp Thing #25. This is not the finished book but the line art and scripts which basically allow you to read the story. Outside of the Wein/Wrightson run, this series is not all that great. After Wein left with issue #13, Gerry Conway and David Micheline continued writing the stories and Nestor Redondo and Keith Giffen did the art. The second volume also reprints Challengers of the Unknown #81-87, issues of DC Comics Presents and The Brave and the Bold that co-starred Swamp Thing. Vol. 1 is worth seeking out just for the beautiful art by Bernie Wrightson (and the Wein stories are also very good.) Vol. 2 is also worth getting if only for all of the extras not included in the Omnibus, such as issue 25 and the Challengers issues, etc. On the other hand, with the Omnibus you also get the first 19 issues of Saga which led into my next pick. Either way, you can't go wrong.

Alan Moore came on board as the writer of Swamp Thing with issue #20 of The Saga of the Swamp Thing (the second series). This is easily the greatest run in the history of the character. Alan takes the character from a swamp creature to become an Earth elemental and he would explore and expand the world of Swamp Thing and the mythos to places no one could have imagined. He would explore the history of the character revealing that there have been multiple Swamp Things over time, tying his version back to the Swamp Thing that appeared House of Secrets #92. He would also introduce John Constantine as a character and the concept of Cain and Able (the hosts of House of Mystery and House of Secrets from the late '60s through the '70s) as being the biblical Cain and Able, and so much more. Moore wrote issues #20-64 and they were amazing. They have been collected into six full color paperbacks called The Saga of the Swamp Thing. Recently, DC issued a beautiful oversized collection called the Absolute Swamp Thing by Alan Moore Vol. 1 which reprints Saga of the Swamp Thing #20-#34 and Annual #2. I would recommend this absolute edition over the trades because DC has gone and re-colored this absolute edition and I personally really like the new colors (although I have read a number of reviews of people who did not care for it). Plus it is such a nice deluxe package that is almost 450 pages of beauty. There is a second omnibus planned for this summer and I expect a third volume which would wrap up Moore's run. As an aside, I would like to see Rick Veitch's run collected in some form in a deluxe format as his stories followed Alan Moore's stories closely and have not been reprinted since 2006. (But as noted, the Omnibus can be a challenge to read.)

Next is what is I guess could be considered a current Swamp Thing title but it is really a book done for Wal-Mart stores and later (anywhere from a week to a month) is released to comic stores called Swamp Thing 100-Page Giant. This was first done as a one shot special in the spring of 2019 which featured a new lead story by Brian Azzarello and Greg Capullo. This was followed up by an ongoing series of 100 page giants called Swamp Thing which ran for five issues and were only available in Wal-Marts. This was relaunched as Swamp Thing Giant with a new number one. This new series features great lead stories by Mark Russell with stunning art by Marco Santucci. There have been two issues so far and I consider these a return to the greatness of the character. I really like these lead stories by Russell as they are standalone stories but they also have a subplot tying the stories together. In each issue there is also a second new story and then reprints. Basically you get 32 pages new stories and then 64 pages of reprints. A great value, and with the relaunch of these Swamp Thing Giants they are available through comic stores as well as Wal-Marts.

I have not discussed all of the Swamp Thing collections out there. There are also the Swamp Thing by Nancy A. Collins Omnibus, Swamp Thing: Tales From the Bayou, a collection of short stories from a variety of places featuring Swamp Thing: Roots of Terror, another collection of various Swamp Thing stories including an amazing story by Tom King and Jason Fabok. This collection rates as a must have in my book. There are also collections of Grant Morrison's run (co-written by Mark Millar), Brian K. Vaughan's run is collected in a series of trades, there are a number of trades (and a great read) of Charles Soule and Jesus Saiz's run on the book from 2015, and a few other trades out there.
This wraps it for this blog. I would highly recommend any of these collections I have written about here and the other collections I mentioned in passing are worth looking at. I have always enjoyed Swamp Thing more than Marvel's version, Man-Thing, although Man-Thing also had his high points. I do find it interesting how much the character of Swamp Thing has changed over the years, and how high and how low the character has gone over the years. Now, have you also read these stories? If so, what did you think? Do you agree with me what I think are the high points? What do you think are the high points? I would like to know. I would also like to know who you liked better, Swamp Thing or Man-Thing? (Or the Heap or some other swamp creature). I can be reached at MFBWAY@AOL.COM or on Facebook at Wayne Markley. All of these thoughts and words are mine and mine alone. They do not reflect the thoughts or opinions of Westfield Comics or their employees. As always…
Thank you.