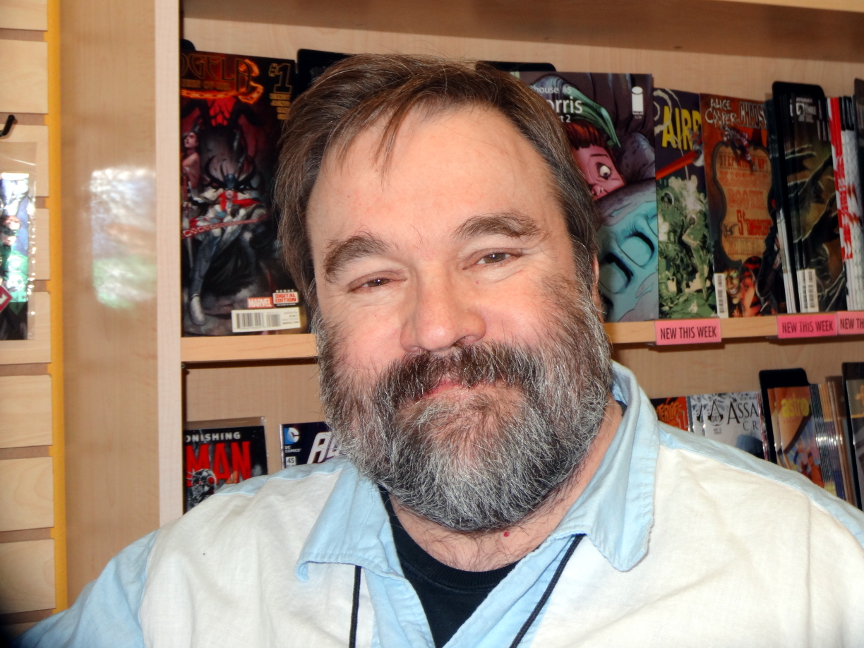 by Wayne Markley

Scooby-Doo turned 50 this year and with it DC Comics cancelled what I considered their best book, Scooby-Doo Team-Up. I have many, many times raved about how great Scooby Doo Team-Up is and how much I love this book. Yes, it's hands down my favorite DC book for the last five years. What I loved about the book was it was a love letter to DC Comics history as told through Scooby and the gang in a book that flowed from page to page with humor, history and charm. It was a perfect book filled with whimsy and the silliness of Scooby-Doo for kids and all sorts of inside jokes for long time DC fans, such as myself, and lots of pop culture jokes for adults. Every time a family comes into the retail store and asks for a book for their children who are not comic fans, the first book I always recommend are the Scooby-Doo Team-Up trades and they almost always come back and buy more volumes. So with this blog I am going to talk about the amazing run that Sholly Fisch and Dario Brizuela (for the most part) did on the 50 issue run of this amazing book. I am going to discuss the seven trade collections (with an eighth and final volume coming soon) and a few other things. To keep this from being a novel I am going to briefly discuss each trade and outline what it reprints with a few notes.

Basically, the book alternated between DC heroes and Hanna-Barbara characters starting with issue seven. Also, all of these comics appeared online first as a digital first comics before collected into print. Two digital comics were combined to make a single print comic. Also, all but one of these comics were standalone stories. That alone is a reason to highly recommend this book. Also, in a recent conversation with Sholly Fisch he mentioned that Scooby-Doo Team-Up was intended as a one-shot, but was changed to a regular book, and I pray the powers that be at AT&T (DC's parent company) come to their senses and bring back this book. Heck, make it a cartoon series! To me this book ranks right up there with Sugar and Spike as one of the best all around books for everyone ever done. Higher praise I cannot offer.

The first volume of Scooby-Doo Team Up collects issues #1-6 of the comic. The guest stars are (in order) Batman and Robin (1970s version with Dick Grayson as Robin), Ace the Bat-Hound, Bat-Mite, and Teen Titans Go! which has a classic line about how the first four issues all have Batman or Robin and their appearances keep changing. Brilliant writing. Next was Wonder Woman and this volume is rounded out with Scooby and the gang with Superman. I should also point out that another thing I love about this books is Dario draws the characters as they historically looked. For example, Scooby and the gang always look like they do from the comics going back to 1969 yet when they crossover with Teen Titans Go!, the Titans look just like they do in the Teen Titans Go! television show. (And this is true for all of the crossovers. It really stands out in the crossovers with the Hanna-Barbara characters such as the Flintstones and Jetsons.)

Volume Two reprints issues #7-12 and has Scooby meeting The Flintstones (and the Great Gazoo) and then in the only two part story, the Jetsons. This is followed by Superman and Krypto. Then there is one of my favorites, issue ten, as it guest stars Jonny Quest, Bandit, and friends. (Notice all of the dog guest stars?) It is beyond me why DC does not allow Fisch and Brizuela do a Jonny Quest book. Next is Secret Squirrel and finally Harley Quinn (the original version, with the harlequin looking costume from Batman: The Animated Series) and Poison Ivy. What a great collection.

Volume Three collects issues #13-18 and opens with guest stars Spectre, the Phantom Stranger, and Dr. Fate. Get it, the 13th issue and all occult characters? As hard as this is to imagine, this story works perfectly. Issue #14 features Aquaman with lots of fishy jokes. #15 guest stars the Flash and all sorts of antics in Gorilla City. This is followed by #16 which has the real, true Shazam and the Marvel family. (Not to be confused with the current DC book called Shazam!). Next is the team of Hawkman and Hawkgirl. Once again classic characters in a story that feels like a silver age Gardner Fox story but with the silliness of Scooby-Doo. This trade is rounded out by one of my top five issues as it is Scooby-Doo, the Space Canine Patrol, and all of DCs dog heroes. A truly charming story.

The fourth volume collects issues #19-24. Issue #19 guest stars Zantana as the gang help her find her father Zatara. (a nod to Zantana's first Silver Age appearances). #20 has Space Ghost and it is a great issue that takes you back to the days of Alex Toth. #21 features the return of Harley, but this time as a solo star. Again, the best portrayal of Harley in years. #22 has Frankenstein Jr. as a guest star. A fun issue with a bit of obscure HB character. #23 is another classic with Quick Draw McGraw. This is one of the few issues not drawn by Dario. Concluding this trade is an issue with the Martian Manhunter taking center stage.

Volume Five has another six issues. Kicking it all off is a reprint is of issue #25 with Green Lantern and Green Arrow. And as you might suspect it is filled with references to the classic O'Neil and Adams run. #26 has Hong-Kong Phooey. I must admit this was a particular silly issue. #27 has Plastic Man and Woozy Winks. To me this rated right up there with the best of Jack Cole's Plastic Man tales. #28 is another one of my favorites as it features Jonah Hex, one of my favorite characters, and he teams up with the ancestors of the gang as it is set in the 1800s. No wonder I love this book. #29 was bit of a letdown (How could it not be after Jonah?) as it guest stared Top Cat. This collection rounds out with my favorite issues as the gang teams up with Challengers of the Unknown, Cave Carson, Sea Devils, and the Secret Six where Mocking Bird is finally revealed. This issue is pure joy to read and it hits almost every high (and low) point of DC's Silver Age. If you read one trade, it should be this one!

Volume Six reprints issues #31-36. Issue #31 features the Atom and continuing that theme #32 guest starred Atom Ant. #33 finds the gang in the 31st century with the Legion of Superheroes! #34 goes back to the present day with the Birds of Prey. Yep, Black Canary, Huntress, Batgirl, and Velma and Daphne. In #35, the gang goes to Jellystone and run into Yogi Bear, Boo Boo, and Ranger Smith. And #36 wrapped up this collection with another one of my favorites, Angel and the Ape. A true gem.

Volume Seven is titled Doomed as for some reason they started naming the trades. It collects issues #37-43. Issue 37 opens with Supergirl and Streaky. #38 has Dyno Mutt and the Blue Falcon. #39 finds the gang traveling back in time to the 1940s to meet the JSA. #40 guest stars Swamp Thing! #41 has the gang trying to save Penelope Pitstop from the dastardly Hooded Claw and they are helped by Ant Hill Mob. (A very funny issue). #42 features almost every ape to ever appear in a DC book, headlined by Congorilla, Sam Simeon, and Detective Chimp. Finally there is issue #43 with the craziest quartet, the Doom Patrol!

There is an eight trade coming soon that will have the last seven issues and guest stars Dick Dastardly, Mister Miracle, Black Lightning, Magilla Gorilla, the Rogues Gallery, Metamorpho, and the special conclusion to it all, #50.

There is also a trade called Scooby-Doo's Greatest Adventures that reprints over 400 pages of Scooby-Doo adventures. Sadly, there are only DC stories, none of the Gold Key, Charlton, Archie, Marvel or European stories. but it does reprint nine Scooby-Doo Team-Up issues. Plus it is priced at the low, low price of $14.99.

One final book I want to mention is the Scooby-Doo 50th Anniversary Giant. There are three new stories along with a number of reprints. All of the new stories mark Scooby's 50th anniversary, but it should come as no shock that the best story is by Sholly Fisch and Dario Brizuela where Scooby has to solve a mystery by himself. Once again this one story makes this book worth the money. This book was originally available at Wal-Mart with a different cover.
This wraps it up for one of the saddest blogs I have ever written. I will really miss this book. I wish DC would just give Sholly Fisch and Dario Brizuela their own monthly book called The Silver Age in its own continuity and let them have fun. I know there is an audience out there for it among us lovers of DC history. Have you read any Scooby Doo Team Ups over the years? What were your favorite stories? Are you as sad as I am this book is cancelled? I would like to know. I can be reached at MFBWAY@AOL.COM or on Facebook at Wayne Markley. All of the thoughts and love of this book are all mine and do not reflect the loves or thoughts of Westfield Comics and their employees. As always…
Thank you.