by Beau Smith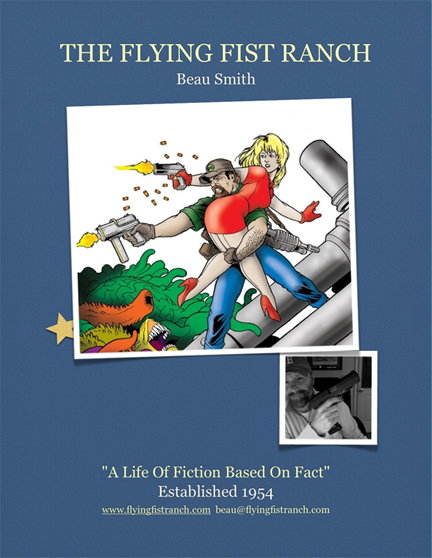 As I check out many and various comic book blogs, news sites and forums, I've noticed that a majority of them seem to be filled with negative and snarky comments about comic books and those who create as well as publish them.
Not playing the "Old Guy Card", but I remember that in printed letter columns, there was respect, dignity and constructive criticism. I miss that. I've also noticed that the only time that anyone ever says anything really nice about people is after they're dead. I think we need to celebrate people before they croak as well.
This week's Beauology 101 column is my "Admiration Society" column. I want to take the time to share with you, my friends, what I admire in comic books. I hope this will be the first of many Admiration Societies.
Consider the share started.
"I Admire:"

** The professionalism and work ethic of Chuck Dixon, Jimmy Palmiotti and Justin Gray. These guys are always ahead of schedule with exciting , compelling stories and treat peers and readers with respect.
** The longevity of Archie Comics.
** The "Story So Far" pages in the front of Marvel Comics.
** TwoMorrows Publishing for continuing to teach the history of comic books, past and present, as well as comic book creators with their fine publications.
** The diversity of Boom Studios.
** Jim Shooter's new blog that pulls the curtain back on his very interesting and historic career, past and present. Plus before I got into the business he always answered my letters and treated me nice.
** The fact that Rich Johnston has never written anything bad about me at Bleeding Cool.
** Comic book writers who don't shove their personal politics, left or right, into their work-for-hire comics.
** The wonderful friendship that Bob Wayne has given me for 25 years.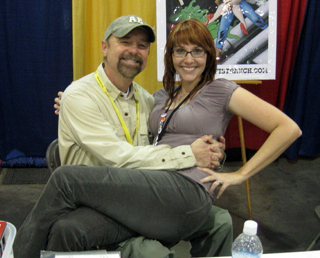 ** Erik Larsen, Stan Sakai, Terry Moore and Lora Innes's stamina.
** Darwyn Cooke.
** Billy Tucci's energy.
** Todd McFarlane's Homer Simpson like accent.
** Gabriel Hardman's sense of lighting and mood with his incredible art.
** Mike Mignola's attitude towards creating comic books.
** Brian Michael Bendis taking the high road when a lot of other creators wouldn't.
** Dark Horse Comics for doing wonderful Gold Key Archives.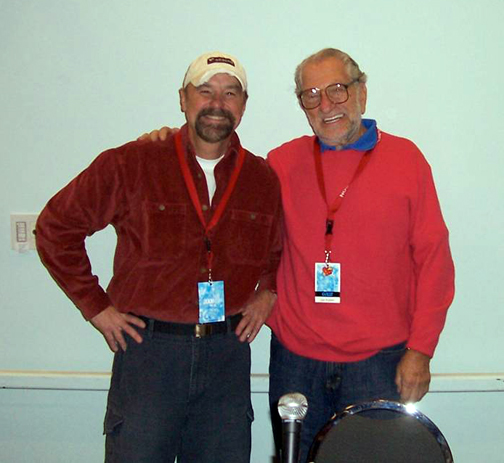 ** The lessons of being a professional that Adam & Andy Kubert learned from their dad, Joe.
** Joe Kubert.
** Gail Simone's respect for non-A-List characters.
** and I miss my friend Dwayne McDuffie.
** DC Comics for publishing Showcase Presents.
** Marvel Comics for publishing Marvel Comics Essentials.
** The aggressive and innovative marketing , promotions and publishing of IDW Publishing.
** The art of Ed McGuinness, Scot Eaton, Chris Sprouse, Ron Frenz, Jorge Zaffino, and Steve Epting.
** The joy which Phil Jimenez feels for comic books.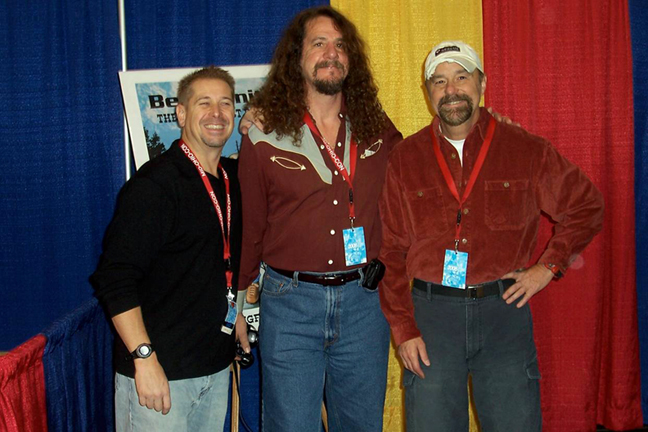 ** Everything I've learned from Dean Mullaney.
** And I miss my friend Dave Stevens.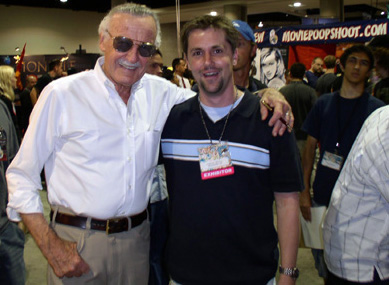 ** Chris Ryall's ability to never sleep and stay plugged into the Matrix.
** Neil Gaiman's manners and the fact he never wanted my name taken off the ANGELA trade paperback that had our stories.
** Peter David's ability to articulate his stories and opinions.
** Steve Niles passion for comic books of all kinds.
** Frank Cho's art and sense of humor.
** The wit of Paul Storrie.
** Tim Bradstreet's taste in films.
** The height of Thom Zahler.
** The work of Jim McLauchlin and Hero Initiative.

** The modesty and art of John Romita, Sr.
** The art of Noel Sickles, J. Scott Campbell, Don Heck, Ross Andru, Irv Novick, Chris Bachalo, Chris Burnham, Butch Guice and Leinil Yu.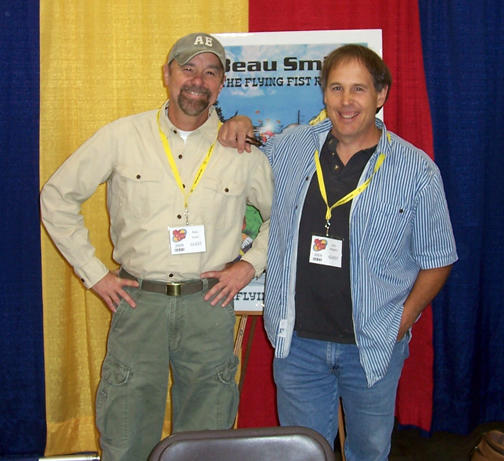 ** Level headed thinking, dry wit and art of Gary Kwapisz.

** The friendship and loyalty of Flint Henry, Chuck Dixon, Ted Adams, Chris Ryall, Mark Schultz, Enrique Villagran, Brad Gorby, Mitch Byrd, Bobby Hickey, and Dean Mullaney.
** The art, Tweets and opened minded musical tastes of Mike Deodato.
** Ed Brubaker's stellar work on Captain America.
** The fact that Dan Slott makes sure there is still some "funny" in Funny Books.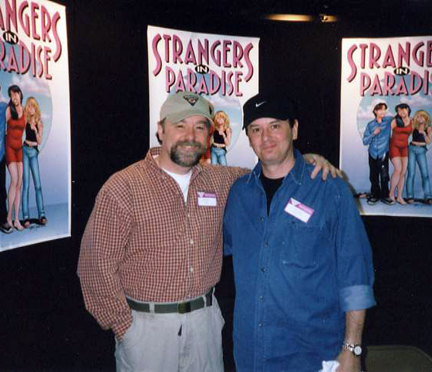 ** The Texas wit and wisdom of Terry Moore.
** Marvel Comics intestinal fortitude in being the only major publisher that has yet to hire me as a writer. They were my first love and have given me 50 years of Blue Balls
** The fact that I haven't given up yet on writing for Marvel Comics and if I have to use crutches to walk, thick glasses to read, and little blue pills to remain manly, I will never give up my goal to write the characters I didn't create, but love just the same.
** Stan Lee for being my influence for writing and marketing yourself.
** Frank Tieri for not being from West Virginia. Have you heard this guy talk?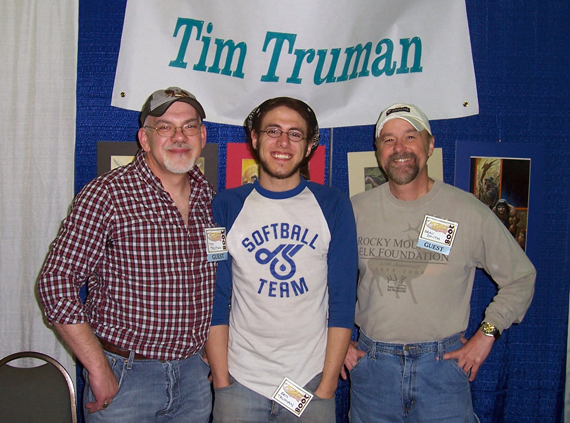 ** Tim Truman for believing in me and getting me into the comic book business.
** Gary Groth for hiring and paying me for my first published comic book related work. (A $14.00 check I never cashed)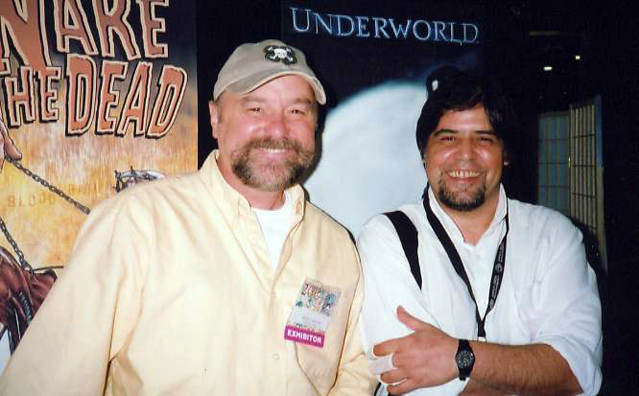 ** Eduardo Barreto for his art, his genius, work ethic, bravery and friendship.
** J.C. Vaughn for always having my back.
** Bo Hampton for spelling his name wrong.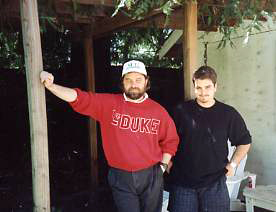 ** Dan Brereton for understanding The Black Terror that Chuck Dixon and I created at Eclipse and for making the character come to life..
** Sergio Cariello for acting like he could understand my accent.
** Graham Nolan for not rooming with me at conventions and singing Jimmy Buffet songs after too many beers.
** KC Carlson for sharing my passion for old Archie Comics.
** Gail Simone for not letting DC Comics forget Lady Blackhawk.
** Everyone who ever bought and read my run on Guy Gardner.
** Roger Ash for transcribing my Beauology 101 columns from my cave wall.


** DC Comics for letting me write B'Wana Beast and Wildcat.
** Mike Baron, Walt Simonson, Robert Kanigher, Murray Boltinoff, and Ernie Colon for helping me learn the craft of comic book writing with their time and kindness.
** Sherill Anthony for being the first to believe that I had a place in comics.
Your admiring amigo,
Beau Smith
The Flying Fist Ranch