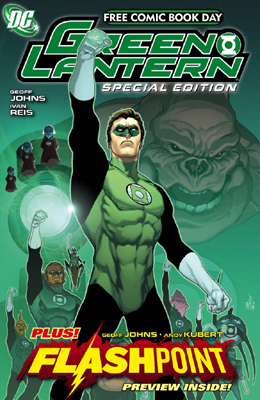 *DC has finally announced their main title for Free Comic Book Day 2011. It's a mash-up called Green Lantern/Flashpoint FCBD 2011 Special Edition.
*If you're one of those who watch the Super Bowl this year just for the commercials, you'll see the first trailer for the Captain America movie among others including Thor and Transformers 3: Dark of the Moon.
*Greg Thompson (Blankets) has announced that his new graphic novel Habibi will finally be out in September.
*Earthworm Jim creator Doug TenNapel has debuted his new webcomic Ratfist.
*IDW will be relaunching their GI Joe titles in April after the events of GI Joe Cobra #12.
*Superman returns to the pages of Action Comics #900 in April and is part of the Reign of Doomsday storyline.
*The new ongoing Batwoman comic has been delayed until April.
*Joss Whedon has done an interview with Entertainment Weekly about the end of Buffy Season 9 and what to look forward to in the upcoming Season 9 but don't read it until you read Buffy #40! (SPOILER ALERT!)
*Even though it was announced that the Wonder Woman TV series by David E. Kelley was nixed a couple weeks ago, a new regime at NBC has ordered a pilot.