by Josh Crawley
Not to brag, but I have so many awesome friends! Chadi got me a sketch card from Jordan Gunderson of Witchblade-bearer Sara Pezzini (a nice companion piece to the 11 by 14 he did for me a couple years ago). Our customers (Brian, Katie & Eric, Emily, and many more) brought so much food to my co-workers on Free Comic Book Day that I still got to eat some today.
Oh, and my amazing friends Andy & Kristy: it was a beautiful wedding and I had so much fun with friends new & old; thank you. I love you two!
Now that that's been said, it's time for me to get back to work! This week: Marvel Previews #81!
Young Avengers Ultimate Collection trade paperback
This is a great purchase for anyone who skipped out on the oversized hard cover collection of all of this great work.

Avengers: The Children's Crusade #1 (of 5)
Allan Heinberg and Jim Cheung reunited to grace us with more Young Avengers? I'd skip work to buy this if I didn't work at a comic book store! Also keep your eye on the Women of Marvel variant by Jelena Kevic-Djurdjevic.
Marko Djurdjevic does a decent job illustrating Steve Rogers' new uniform on the cover, but sadly, I in no way like the way Mike Deodato illustrates the uniform. This book is going to be hard for me to pass up, but until they get a new, regular artist, I will be passing.

Steve Rogers: Super-Soldier #1
Don't get me wrong: Frank D'Armata does some great coloring work. Sadly, though, the trend of coloring in 5 o'clock shadows< has gone too far… especially on someone with 1) such blond hair that is 2) rarely shown with stubble. As for the Fighting American-reminiscent uniform itself: while it's nice to see Carlos Pacheco draw it, it would have been nice to have seen some art by series' artist Dale Eaglesham. Also, the red on the legs seems like it was added because someone realized "Gee, we should put at least a little bit of red on here," and not an actual design consideration from the beginning.
I have nothing new to say about this title since it has yet to ship an issue since I recommended it last month, but I really want people to give it a chance.
I'd've preferred they just remaster and re-release this without doing single issues first, but I much prefer even more people check this great book out. If this gets that done, so be it.

Ultimate Comics: Spider-Man #12
I'm so glad Ultimate Peter Parker finally got a haircut! His early-90s haircut for over 130 issues wasn't so spectacular. The best part about this cover, though, is sexy lower back; aw yeah!

X-Force: Sex and Violence #1 (of 2)
I really do hope this ships on time, but wasn't Secret War #5 nine months late or so? Also, I'm pretty sure Wolverine and Domino haven't always had a special relationship the way this description would have you believe. Pretty sure that started in the Jim Krueger Fly Boys-vision (my own term for it since it came before Marvel-Scope, or whatever irrelevant name they gave it) format of New X-Men Annual 2001 (or so; the one by Grant Morrison & Leinel Francis Yu). Anyways, it infers hot & heavy illustrated by Del'otto, so it gets a mention.
"First X-Men #1 in 20 years!" …as if that's something exciting? Sure, it's got a creative team cobbled together from two of the nineteen Deadpool books, but it's not like Astonishing X-Men #1 wasn't an X-Men #1 within the last… well, I refuse to look at how long ago it came out. All you have to do is cover up that one word. Same goes for all the other various flavors of X-Men #1 over the years. Basically, if you enjoy the writing on Deadpool: Merc with a Mouth, the art on the new non-subtitled Deadpool series, and the X-Men, check this book out.

Marvel Universe: The End Premiere Hard Cover Variant Edition Vol 52
I enjoyed all of Jim Starlin's huge Infinity events, but I've never had the chance to read this; looking forward to it!
!!!!!!!!!!!!!!!!!!!!!!!!!!!!!!!!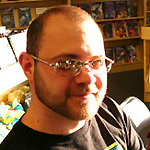 Josh Crawley is the tenured Master of Disaster of Westfield Comics, not to be confused with Josh Crawley, the keyboardist for Everclear.
http://www.twitter.com/joshcrawley
josh@westfieldcomics.com
Westfield Comics
ATTN: JOSH
7475 Mineral Point Rd STE 22
Madison WI 53717

Avengers: The Children's Crusade, casanova, Fifth Degree, Hawkeye & Mockingbird, Josh Crawley, Marvel Comics, Marvel Universe: The End Premiere Hard Cover, Secret Avengers, Steve Rogers: Super Soldier, Ultimate Comics Spider-Man, X-Force: Sex and Violence, X-Men, Young Avengers Ultimate Collection trade paperback