by KC Carlson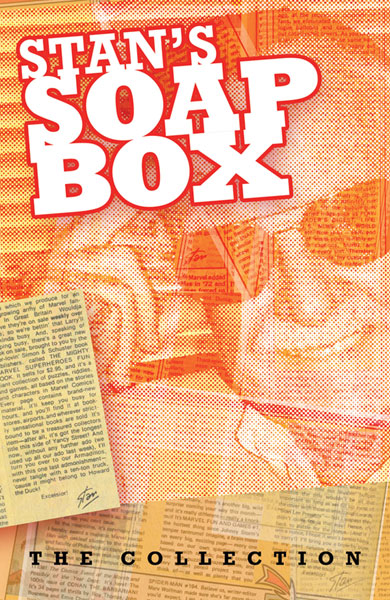 Without a doubt, over his long career Stan Lee has written (or co-written) some of the most seminal moments in comic history. Whether it was Galactus vs. the Fantastic Four for the fate of the Earth or the most heartbreaking moment in the life of young Peter Parker, or even that photo shoot with Millie the Model (you remember…), Stan has stood proud as one of the greatest and most celebrated writers in heroic illustrated fiction.
Yet some of his most important work – a series of 144 short essays written between 1967 and 1980 – have been largely forgotten by the screaming masses of today's Marveldom, who know only of the classic work of the early Marvel Universe through reprintings in the Marvel Masterworks or Marvel Essentials series. This work has not been reprinted there because this work originally appeared on something called the Marvel Bullpen Bulletins Page – something most people today would routinely, perhaps cynically, dismiss as just another "hype" or advertising page. Those of us who were there to read it each month know it to be something far, far more.
Granted, Stan's Soapbox was used from time to time to put a personal spin on a new project or two, or to occasionally toot Stan's own horn, but a large percentage of the Soapbox was devoted to talking about the behind-the-scenes of Marveldom – how and why things were done – and occasionally fessing up to something that they had done wrong (like printing fan mail without editorial answers for a few months in 1968). Like Walt Disney (on Walt's various television programs before his death in 1966) before him, Stan let the fans in on what a little bit of the magic was all about. But just a little – magic isn't magic if something isn't left to the imagination, after all. And then Stan did something completely unprecedented. He started talking about the Real World, and what was going on in it.
He first started talking about tolerance in September 1968, and then he quickly followed it up with a piece on bigotry in November. Soon there were pieces on good vs. evil and how Love is the most powerful force in the Universe. Granted, it was the dawning of the Age of Aquarius and the Beatles had been saying this in song for a year or two now, but it was remarkable that anything like this was even mentioned in comic books of the day. To put this in perspective, over at DC, Mort Weisinger's lettercols were still filled with "boo-boo" letters. (For example, "Superman's cape was green in panel 3. You guys made a boo-boo!") Holy dichotomy, Batman!
Finally, some genius (actually, it was Stan himself!, according to the Hero Initiative's Jim McLauchlin in his Afterword) came up with the great idea to collect all the columns together into one amazing volume: Stan's Soapbox: The Collection. The book itself is a Marvel publication, in conjunction with the Hero Initiative. It supports the fine work that the Hero Initiative does in "helping comic creators in need. Hero creates a financial security net for yesterday's creators who need emergency medical aid, financial support for the essentials in life, and an avenue into paying work." Please see their website for more information.
Not only are all of Stan's Soapbox columns included, but the book also features an ongoing timeline of real-world and pop culture events, including detailed background on certain key topics (the Civil Rights movement, the Vietnam War, Richard Nixon, campus protests, the Attica Prison riots and – most important of all – "When Kirby Quit Marvel" and the First Marvel/DC crossover). All of which are provided to place Stan's comments into their proper perspective.
There's a bunch of testimonials from "True Believers" including Joe Quesada, Roy Thomas, Tom DeFalco, X-Men film producer Tom DeSanto, Scott Dunbier, Brian Pulido, Paul Dini, and many others. In addition, there are vintage photos of the early Bullpenners, reproductions of how the Soapbox actually looked in print (those little yellow boxes!), some trivia (instances of the word "Excelsior!": 119), plus a Latin-to-Stan translation guide! Also, former Marvel assistant Scott Edelman shares some original manuscripts – directly from Stan's typewriter.
I think current Marvel Editor Tom Brevoort (in his essay from the book) sums up the feelings of fans everywhere about what Stan imparted in his Soapbox: "Even when all he (Stan) was doing was shilling comics, he always came across like he was doing more than shilling comics – that the things you cared about were the things he cared about, the things you thought about were the things he thought about. It gave one the feeling that you were worth more than 12 cents' worth of profit to Stan, that he and Marvel cared about you for more than what was in your wallet, and really respected you as a thinking individual worth opinions of your own."
For all of you who have only read the reprints of the original Marvel comics and always wondered what all those crazy old guys were raving about when they talked about "The Marvel Age of Comics" and the original Bullpen – this book is your missing piece of the puzzle. It is essential Marvel – and comics – history.
Stan's Soapbox: The Collection is available through Westfield or at the Hero Initiative booth at every major comics convention throughout the summer. Check with Hero Initiative for the availability of Hardcover and Limited Edition Hardcover editions, signed by Stan.
Purchase Stan's Soapbox: The Collection.
_____________________________
KC Carlson has been working in, around, and adjacent to comic books since the 1970s, most notably for DC Comics as an editor (including Collected Books) in the 90s. KC's Bookshelf is an ongoing attempt to catalog the great comic book collections and history books that should be on your bookshelf.