"Andi Watson Interview"
AUG 2001 Product
Click on graphics to view a larger version.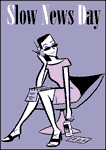 Andi Watson is the creator of Skeleton Key, published by Slave Labor Graphics, and Geisha and Breakfast After Noon (offered as a trade paperback this month), published by Oni Press. He was also the initial writer of Dark Horse's Buffy the Vampire Slayer. This month, his new book, Slow News Day, debuts from Slave Labor. Worlds of Westfield Content Editor Roger Ash recently contacted Watson about Slow News Day.
Westfield: What can you tell us about Slow News Day?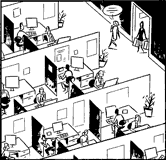 Andi Watson: It's a six issue mini-series, bi-monthly, starting in July, published by Slave Labor Graphics. Black and white interior, colour cover on a nice stock (hopefully). The original idea was to do a series involving all the weird little stories that turn up in my local newspaper. With the likes of CNN and whatnot, we're used to the big dramatic stories from around the world being reported almost as they happen. Local newspapers are a great contrast as their concerns are to a relatively small area. I suspect that the regional papers in the States are the same... reports on school sports, pets, and local politics.
An American, Katharine Washington, comes to work on the paper expecting it to be based in London. She's disappointed to discover the "Wheatstone Mercury" is tucked away in the provinces and that it only has one reporter, Owen. Why she's really there is revealed over the course of the series.
Westfield: Could you tell us a bit more about Katharine and Owen, and who are some of the other characters who appear in Slow News Day?
Watson: Katharine comes from San Francisco so has an easy going attitude and tolerance mixed with a typical American desire to make things happen. I wanted to avoid any of the hippyish stereotyping that the media lazily uses to describe the area though. It is there, and is especially prominent in areas like Berkeley, but most people aren't sandal wearing buddhists.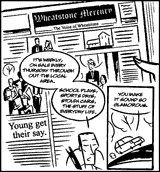 Owen is the one remaining reporter at the paper and so is harrassed and stressed by the workload and what he sees as the profit driven ethos of the paper. He's intially hostile and suspicous of Kath's motives which are revealed as the story goes on. Both have parents and partners that have a role in the story and their differences and similarites are part of the overall theme.
Westfield: A theme of Slow News Day appears to be the culture clash between America and England. Is this based on any personal experiences?
Watson: I lived in the Bay Area for a year in the mid-nineties, have worked with US indie publishers for almost a decade and have quite a few American friends, so I have some experience of the two cultures. I think our countries are similar enough to be friendly with each other but different enough to spark debate. Covering all the differences is too large a subject to cover in 100+ comic pages, but I wanted to touch on some of the contrasts that interest me while weaving them into the plot. I think the fundamental difference in the cultures is that the US is focused on the rights of the individual while the UK is more concerned by the conditions of the majority.
Westfield: Your stories are more character driven than the bigger-than-life action you find in many comics. What attracts you to these more personal stories?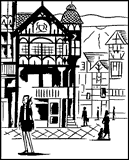 Watson: Good question. I'm interested in characters and the choices they make in certain situations. What they want and what is important to them. Isn't that something that happens in all our lives? I'm interested in these areas of shared experience. Most of us live with a partner, have jobs, parents, pets, children; so love, work and life are all things we care about. That they're not the kind of things often dealt with in comics explains a lot about the mediums perception by the general public. They're not interested because the majority of comics aren't about the kind of things that they recognise. Whereas novels, movies, tv shows, etc. are. Who cares which muscle bound guy is beating the crap out of another?
Westfield: Your art style is very distinctive. Who are your artistic influences?
Watson: Hmmm, I like all kinds of different things... portraits by Ingres and Holbein, early German, Flemish and Renaissance painting, Japanese woodblock artists including Hiroshige, gothic art, Matisse, Degas, Reynolds, Rembrandt, Raphael, design from the 30's and 50's, Roman/Greek figure vases... Chaland, Max, Clerc, Dupuy/Berberian, Avril, Stanislas, Herge, Jaime Hernandez, Toth, Timm, Miyazaki, Seth, Mitsuru Adachi, Seizo Watase, Blutch.
Westfield: Do you think your work on Buffy helped to introduce people to your other work?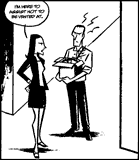 Watson: I'd like to think it did as that was part of my motivation for doing it. However, in reality, I don't think it did. There's no real cross-over of audience between Buffy and indie comics. Fans of the show are only interested in Buffy and most comic fans who read licensed stuff don't pick up black and white books.
Westfield: You're contributing to DC's Bizarro Comics HC. What can you tell us about that?
Watson: Yeah, it's a pretty cool project edited by Joey Cavalieri. I wrote a story about Wondergirl and Wondertot involved in a little sibling rivalry on Paradise island. There was no continuity or any of that stuff, so it was fun to do. I wish there were more female superheroes in comics, it might help change the gender imbalance that troubles the medium... at least if they're not drawn in a "bad girl" kind of way. Mark Crilley drew it in a really detailed style which looks amazing, he went to town on the architecture and whatnot. He wrote a story for me called First Contact which is about the Atom feeling under appreciated in the JLA. It's pretty funny and there's no punch ups which is refreshing. I got to draw and ink and colour the whole thing which was cool.
Westfield: Do you have any other upcoming projects you'd like to mention?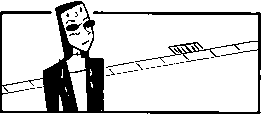 Watson: I'm hard at work on Slow News Day. I have a story coming up in the June issue of Star Wars Tales. It's about a slave girl trapped in Jabba's hideout and how she got there and how she gets out. I did the whole thing from script to colour so that was a blast. I'm doing the covers/design for the upcoming Hopeless Savages four-part series from Oni press. I've drawn an 8 page story for the upcoming Grendel: Black, White & Red series. It's a series of full page pics with a samurai theme and Matt [Wagner] has written Haiku-like text for it.
Westfield: Any closing comments?
Watson: I just heard last night that Breakfast After Noon got an Eisner nomination for limited series so I'm pretty stoked about that.