"Tony Millionaire Interview"
DEC 2000 Product
Click on graphics to view a larger version.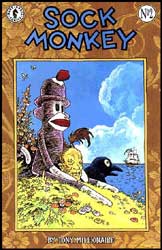 Tony Millionaire is the Eisner and Harvey Award nominated creator of Sock Monkey. Imagine a classic children's story written for a modern audience and you have a basic idea of where Sock Monkey will take you. Worlds of Westfield Content Editor, Roger Ash, recently contacted Millionaire about his singular creation which returns this month in a new mini-series from Dark Horse.
Westfield: For people who've never read Sock Monkey, how would you describe the book and who are the main characters?
Tony Millionaire: In these books I really tried to remember as much as I could about my grandparents' house in Newton Lower Falls, Massachusetts. It was a big, very old house with beautiful smells of plaster, old waxed wood and tollhouse cookies. My cousin Anne Louise lived there, she was a few years older than my siblings and me, and she told us about this little tiny man that lived in the closet. She would leave cookie crumbs for him and the next day they would be gone. We really believed her and were kind of scared, but I remember how much more magical that house seemed than the Deck House we lived in. My grandmother gave me a sock monkey one day and I got to bring it home, which I was not allowed to do with all the other old toys she had in that house, so I knew I was bringing some of that magic into my own house.
The comics are about that sock monkey and a friend I wrote up for him named Mr. Crow. They run around the old house trying to find beauty and poetry in the things they see (in the first book they think that a chandelier is a castle in heaven) but are constantly tripped up by crunching reality. Fire, rabid bats, weird things in the study like guns, booze and shrunken heads have a way of ruining their idealistic view of things.
Westfield: What can you tell us about the new mini-series?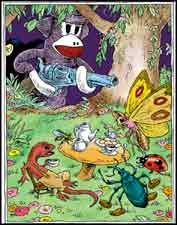 Millionaire: I'm taking them out of the house in the next two issues to deal with animals in the woods. Hunting and death juxtaposed with childlike innocence will be the name of the game. I won't say more except to say that some terrible things will happen.
Westfield: The stories have the look and feel of classic children's stories, yet they're definitely done with a modern sensibility. Do you draw your inspiration from classic stories and/or illustrators, and if so, which?
Millionaire: The first book I ever had read to me was the great Winnie the Pooh, and I'm not talking about that chewed up monstrosity that exists now since Disney got their hands on it. I wonder how much Walt Disney himself had to do with that violent act of sabotage, his early work was so brilliant. Snow White was such a beautiful movie, it's hard to believe that his name could be associated with the hideous monster that is now called Pooh. The illustrations of Ernest Shepard made such a glorious dent in my head, I remember looking at them when I was a kid, just holding them close, looking at the way he drew the grass under that bear's foot. I fell in love with pen and ink looking at those pictures. I also loved the drawings of Johnny Gruelle who did the Raggedy Ann books. That guy could draw a duck wearing shoes like nobody's business! If you look at the shoes of the "Trumbernick" in Sock Monkey #2 Volume 2 you will notice that I stole Johnny Gruelle's shoes directly! He also did some of the best Sunday comic strips ever.
Westfield: Are you working on any other projects?
Millionaire: Yes, I have a strip called "Maakies" which runs in weeklies across the country and can be found at www.word.com every Tuesday. Fantagraphics (www.fantagraphics.com) has just published a collection of over 300 strips which I did over the past six years. The characters are also called Uncle Gabby and Drinky Crow, sort of a parallel universe kind of thing. They are darker and more "adult" than the Sock Monkey books. Saturday Night Live animated it last year and ran a couple of episodes, maybe we'll see some more animation soon. I could sure use the cash. I need to buy a big very old house in Newton Lower Falls and scare some grandchildren.
---
Published by The Westfield Company of Wisconsin, Inc., 8608 University Green, P.O. Box 620470, Middleton, WI 53562-0470. ©1999 The Westfield Company of Wisconsin, Inc. Westfield is a registered trademark of The Westfield Company of Wisconsin, Inc. All rights reserved. Nothing may be reprinted without permission. All products and artwork pictured herein are TM & © their respective owners. Product descriptions and other information is largely taken from publishers' news releases and distributor catalogs, and is as up-to-date as possible. We cannot be responsible for last minute changes made by publishers.