"Jeff
Smith

Interview"

JUN 2000 Product

Click on graphics to view a larger version.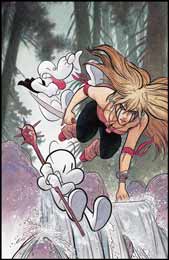 When Jeff Smithís Bone #1 hit the stands with a print run of around 2,000 copies, no one would have predicted that it would become one of the most popular self-published titles around, spawning products including statues, trading cards, posters, and more. Thereís even a Bone movie in development. This month, Bone #38 begins the final act in the Bone saga. Worlds of Westfield Content Editor Roger Ash recently spoke with Jeff Smith about Bone.
Westfield: For those unfamiliar with Bone, how would you describe the book?
Jeff Smith: My ready answer is itís the Lord of the Rings meets ďBugs Bunny.Ē Picture Bugs Bunny planting a big, wet kiss on Aragornís mouth and you get the basic idea [laughter]. Itís a mix of my influences. When I was younger, I read a lot of Heavy Metal, which was filled with European fantasy-type comics. I really liked the Star Wars movies. I also liked Uncle Scrooge and Pogo. I thought it would be fun to send an Uncle Scrooge-type character on a really long, serious adventure.
Westfield: Who are some of the characters people will encounter in the book?
Smith: The main characters are the three Bone cousins, Fone Bone, Phoney Bone and Smiley Bone. Fone Bone is the friendly leader of the group. Phoney Bone is his greedy and selfish cousin. And Smiley is kind of a loose neíer-do-well who pretty much goes wherever the wind blows. And there are the characters in the valley where the Bones find themselves; Thorn, Graníma Ben, and some of the townspeople. Thereís mythical creatures like dragons and huge, slobbering monsters called Rat Creatures.
Westfield: This month you begin the final act of Bone. What can people look forward to in upcoming issues?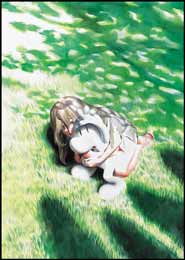 Smith: Since this is Act 3, itís a fairly self-contained chunk, but in order to allow people to catch up on the story, weíre going to do a pretty nice illustrated ďpreviouslyĒ section, such as when youíre watching LA Law, and it starts: ďpreviously on LA Law.Ē Weíre going to encapsulate the entire story with illustrations so nobody will be left out. Bone #38 will be a 48-page book, so thereís plenty of room for story to happen.
There are a lot of mysteries and a lot of conflict for all the characters and all of thatís going to be resolved. I donít want to get too specific. But I will say that everyone who was worried about Thorn at the end of Bone #37 better get ready for a heck of a ride.
Westfield: Do you know how long the third act is going to be?
Smith: Probably about the same length as the first two acts, so I would say about 15 to 20 issues, starting with this one, #38.
Westfield: One of the cool things about #38 is that it has three covers. How did that come about?
Smith: Itís three covers to celebrate Act III. I thought it would be fun to make an event out of this. I took a very short break from Bone and I did some other Bone projects, such as Stupid, Stupid Rat-Tails. It was nice to step back from the Bone story, which is a very large, complicated story, and let my brain rest and do something more lighthearted. But now that Iím coming back, Iíd like to make an event out of it. I remember when I was a kid getting the 100-page Super Spectaculars from DC, or any 25 cent annual giant comic. Those were always fun. So weíre going to do a 48-page squarebound book and, to make it even more of an event, itís act three so we thought weíd have three covers. To compliment my own cover, I got two of my friends, who I think are some of the best artists in the industry, to help me out: Alex Ross and Frank Miller. The covers are unbelievably good [laughter]. They are really, really something. They are not just knock-offs to help sell the book, these are really, really nice pieces of art. Iím thrilled. When you put all three together, they compliment each other very well. And they do have something to do with the story.
Westfield: On the horizon is the Rose mini-series. What can you say about that?
Smith: Like Stupid, Stupid Rat-Tails, it is a prequel, but itís completely self-contained from the main Bone storyline. It is the story of Grandma Ben when she was about 15 to 20, a teenager, her name is Rose. Itís a love triangle between Rose, her sister, and a young captain of the guard named Lucius. It chronicles the events that lead up to what happens in the current Bone story. Itíll explain some of the dynamics of some of the relationships and what allowed the Lord of the Locusts to awaken and take hold of the Valley.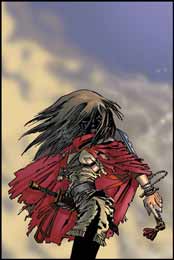 Itís being drawn and painted by Charles Vess who is absolutely one of the most fantastic painters ever born. Most people will know his work in comics from the stuff heís done on Sandman with Neil Gaiman and on Stardust. Heís very well known outside of comics in the fantasy art world for his work. He won the World Fantasy Award for best artist this year, I think that was for his work on Stardust. His work on Rose looks fantastic. Itís very different from Bone. Itís a much more straight-forward story. The humor is played down more than it is in the Bone stories. The characters are really strong. The world is just so deep and rich with Charlesís artwork. Itís fantastic. I canít wait for people to see this. Rose is definitely going to be something new for the American comics audience. But theyíre going to have to wait for fall.
Westfield: Are there any other upcoming Bone projects that fans can look forward to?
Smith: Those are the big ones. Weíre starting up the Bone comic book again with this big event, and Rose in the fall, which is a full color three-issue mini-series. That keeps my plate full for right now [laughs].
Westfield: Is the Bone movie still in the working stages?
Smith: Weíre rewriting it as we speak. Itís a much slower process than I ever, ever imagined [laughs], but itís still going on!