"John Ostrander Interview"
September, 1999
Click on graphics to view a larger version.
---
John Ostrander has written many comics in his career including Grimjack for First Comics and The Spectre, Martian Manhunter and The Kents for DC. This month, he pens a tale of Marvel's Western characters in the Blaze of Glory mini-series. John recently spoke with mini-series. John recently spoke with Worlds of Westfield's Content Editor, Roger Ash, about Blaze of Glory.
Westfield: How did Blaze of Glory come about?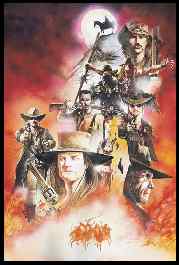 John Ostrander: Partly because of an ego case, basically mine. I'd already done a Western over at DC, The Kents, and having done one there, I wanted to see if I could do one at Marvel as well. See if I could talk them into it. So, I was talking to my editor, Mark Bernado, about it and I came up with an idea. I knew at some point the western frontier was declared closed and I realized that we didn't know the ends, for the most part, of the Marvel Western characters. Why don't we tell a story that combines as many of them as possible and tell how they went out. From there we went to town.
Westfield: Which characters are involved in the story?
Ostrander: We have Rawhide Kid, Two-Gun Kid, Kid Colt: Outlaw, Outlaw Kid, Ghost Rider, Caleb Hammer, we have a character who was known as Gunhawk, who was a bounty hunter, Reno Jones who was part of a duo known as the Gunhawks, and Red Wolf. I can't say we have every single one of the Western characters, because there's just too many, so I picked all the ones I could reasonably work in. The artist, Leonardo Manco, basically reimagined them. If you've grown up on these characters, they don't look exactly as you may remember them. But they're very compelling, very cool. Leo's work is just astounding, incredibly beautiful. It's really feels like a big screen Western.
Westfield: What else can you tell us about the story?
Ostrander: I selected a time and a place that is historically accurate, although the story itself, unlike the Kents, is not based on historical incidents. We set up the town of Wonderment, Montana, in southwest Montana, where ex-slaves, and some Native Americans, and some Whites, have all settled and are living, basically, in amity until some hooded night riders start coming in and attacking the town and killing people. And there's no apparent reason as to why. Reno Jones has settled there with his wife and boy, and he goes out to recruit some people that he used to know for this, and one or two other people come along as well. In one case, Caleb Hammer is actually following one of our heroes who's accused on murder.
Westfield: As you've mentioned, you've also done a Western with The Kents. Is the Western a favorite genre of yours?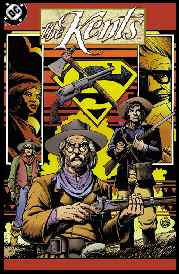 Ostrander: I wish I could say that I was raised on Westerns, but actually, I'm sort of a Johnny-Ostrander-come-lately to Westerns. It was my wife, Kim Yale, who alerted me to the possibilities of the Western genre and got me very interested in it. And then I got interested in doing it in comics simply because it hadn't been done in comics for a long time. As I once noted to somebody, a lot of my career seems to consist of doing things that people say "you can't do that." And I say "sure you can" and then I go out to prove that you can do it.
Westfield: Is there anything you'd like to add about Blaze of Glory?
Ostrander: Strangely enough, it comes out the same month as The Kents trade paperback comes out, so I'm calling December the "Ostrander-yahoo-round-'em-up-cowboy" month.