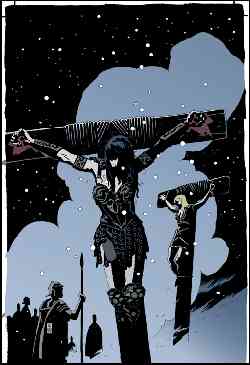 Westfield: How did you become involved with the Xena comic?
John Wagner: Through my work generally with Dark Horse. I got to know the editor, Scott Allie, while working on the Star Wars saga, Shadows of the Empire - or was it on Boba Fett? In any case, I guess Scott liked the way I'd handled those stories, because when Xena came up he called me to ask if I was interested. I'd never seen the TV show - it's not the kind of thing I'd normally watch - but I checked it out and discovered that it was pretty good. A Xena comic book sounded like fun.
Westfield: Is the comic closely tied to the TV show?
Wagner: Scott's idea was to parallel the TV show, keeping readers up to date with events, while weaving our own tales around them. I can't tell you anything about the TV series, except to say there are some startling things happening - it makes for some way-out comic books.
Westfield: What can you tell us about what you have planned for the series?
Wagner: In our own tales we'll be pitting Xena against new foes, including the mighty Thor. We'll also be meeting the gods of Egypt - now there was a crazy bunch. There's a confrontation with Cleopatra in which Xena makes a very dangerous enemy, one who will return to plague her. Joyce Chin is a lovely artist, really suited to Xena. I can't wait to see what she makes of all this.
Westfield: Will other characters from the show appear in the comic?
Wagner: Yes. There's Gabrielle, of course; you couldn't leave her out of Xena's life. Hercules and other characters from his show we have a problem with, but apart from that the studio has given us a pretty free hand.
Westfield: How much say over what you write do Xena's producers have? Has this caused any challenges for you?
Wagner: I think they have total say, but they're not too pedantic about things. They mainly don't want Xena acting out of character.
It's always a challenge to satisfy a licensor, but that's part of the fun. The way I see it, they created the character, they have a right to insist the comic remains true to their creation - as do the readers. And if the licensor is happy, the editor is happy and so am I!