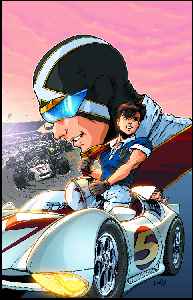 Speed Racer comes to comics this month courtesy of WildStorm and writer/artist Tommy Yune. This 3-issue mini-series features many of your favorites from the TV show, including Racer X, Trixie, and Mom and Pop Racer. Worlds of Westfield Content Editor Roger Ash recently spoke with Yune about the Speed Racer mini-series.
Westfield: Is this your first comics work?
Tommy Yune: No it is not, though I would like most people to believe that [laughter]. Many, many moons ago, when the sun was about the size of an orange, I did a self published work. It was kind of a school project actually called Buster the Amazing Bear. That was published back in 1993 and I self published that on the side through 1995 while I was working on video games. Presto Studios took off and that actually ended up becoming my full time job, which was developing video games. I was the creative director on their Journeyman Project series of CD ROMs and worked up to Journeyman Project 3.
Westfield: How did the Speed Racer mini-series come about?
Yune: I'd sum that up in one sentence, but I don't think I can. The whole long, convoluted story started when my work at Presto Studios on the Journeyman Project series was coming to an end. WildStorm's John Nee kept hounding me because I had a great deal of Mac graphic background and WildStorm was predominantly a Mac production studio. Prior to video games, I had a lot of experience in print because I used to work at the Orange County Register, a newspaper in Orange County, California, and he thought I'd be an asset to WildStorm. But at the same time, why on earth would anyone ever leave the lucrative video game industry for print? And of course he exploited my Achilles Heel; I loved the medium of comics. So I decided to go for it.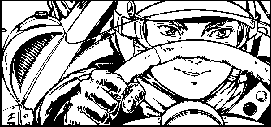 I had first heard that WildStorm was somehow becoming associated with the Speed Racer license at the San Diego comicon last year. I had spoken about it to Scott Dunbier at first and the conversation then got carried on involving John Nee, who eventually secured the license for WildStorm through Jim Rocknowski at Speed Racer Enterprises. He's the caretaker of the Speed Racer property in the United States. We all worked together very hard to make this work and I'm really happy with how the first installment of the book turned out. The production folks here in the coloring department have made this into a really beautiful book.
Westfield: How does this compare to the Speed Racer cartoon?
Yune: There was a lot of concern about how we built the series. The Japanese studio that created the footage for the original Speed Racer series, Tatsunoko Productions, has done an update recently and it's going to be released through AD Vision, I believe, as Speed Racer Y2K. So, do we do a version of the Speed Racer Y2K property? However, nobody's familiar with that because it hasn't been released. We had the other conundrum of, do we try to update it with our own spin on the series? That attempt was not viewed as very successful when that was attempted a few years back with The New Adventures of Speed Racer. All that serves to do is fragment the series and I felt what was most important was to remain true to the original because that's where the nostalgia lies.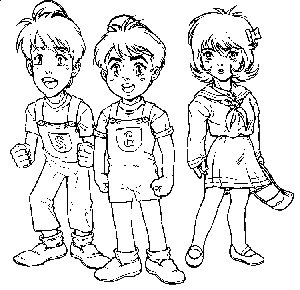 We're doing a "Year One" approach with this mini-series. Throughout the original Speed Racer run on television, they had this huge explanation of the origin of Racer X; how he came to be Racer X, how he ran away from home and became this secret agent racer. And yet, for the main character himself, Speed Racer, it's never really quite clearly explained. He was just always there. So we're building this introductory story that will both appeal to existing fans of Speed Racer, but, at the same time, we'll also work a neat and tidy introduction for people who are not familiar with Speed Racer. This will be a perfect time for them to jump in. It may actually result in them wanting more and they may get into the television series as a result of this.
Another thing I've been focusing a lot on is I've been watching all the original footage and doing almost a psychotic amount of research into the original series. The original series was not a continual series, but a collection of short stories that don't all relate to one another. And so another thing I've tried to do with this mini-series is to tie a lot of the themes together.
Westfield: What else can you tell us about the story?
Yune: Everybody dies [sinister laughter]! We're introduced to Speed Racer as a very young child, so it kind of starts as the adventures of young Speed Racer. We see what shapes his passion for racing. We're introduced to a lot of characters when they're young and then you follow them as they get older. The story ends right before the first television episode. It leads up through the building of the Mach V prototype, how there were other racers before Speed Racer for Pops Racer's racing team, and the path through which Speed Racer ended up becoming the racer for his own father's racing team. Another integral character within the story is Speed Racer's older brother, Racer X. He's almost a romantic character where he's given up his identity as part of the Racer family and, as a secret agent, he uses everything within his power to protect his younger brother from the criminal elements in racing. We've got some really cool Dick Tracy-style characters for Speed Racer with corny names to boot. It should feel very familiar for the fans out there.
Westfield: Is this going to feature all of the main characters from the TV show?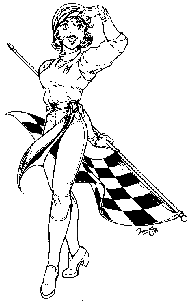 Yune: As many of the main characters as possible. Some readers are going to find some nice little surprises in there.
Westfield: Any closing comments?
Yune: Assuming this stuff does well, there are other places I'd love to take this property, but we'll just have to wait and see. I think fans will get a big kick out of it.
Speed Racer is one of the classic anime toons. In the more modern ones, the trend is to set them in a post-apocalyptic Tokyo world where everything is dark and rainy and looks like it's been lit by Ridley Scott. It's pretty to look at this future anime world and you'd never want to live there. But Speed Racer comes from an earlier era. The general atmosphere of this comic is that it's bright and shiny from a more innocent time.