"David Mack Interview"
March, 1999
David Mack is the creator of the popular Image title, Kabuki. This month he helps chronicle the adventures of Daredevil as writer and cover artist with artists Joe Quesada & Jimmy Palmiotti. Worlds of Westfield Content Editor Roger Ash recently spoke with David about his upcoming work on Daredevil
Westfield: How did you become involved with working on Daredevil?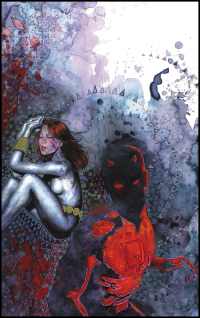 David Mack: The first I heard of what evolved into the Daredevil project was when Joe Quesada called me up and let me know that the Event group was taking over some of the titles for Marvel, though the titles hadn't been chosen yet. Basically what they told me was they were calling a couple of creators and asking them what characters they were interested in doing. The first offer wasn't to draw Daredevil, he was just asking if there was a character that I identified with or one that I wanted to do that he would then want me to write and draw. This was an amazing offer, one that a few years ago I couldn't have imagined in my wildest dreams. But at that point, I was in the middle of starting Kabuki up with the new series. I wasn't in-between series or anything like that, just totally happy with the way Kabuki was going and happy that I was doing an ongoing series and was really getting into the groove of making it work and doing the entire book myself. So, I let them know I was extremely honored, but I couldn't responsibly agree to write and draw another book at the same time. Kabuki was exactly what I wanted to do with my time and I didn't want to give that up. He told me to keep an open mind about things and we'd talk about it in the future. It was probably a few weeks to a month later that he let me know that he was going to be drawing the Daredevil book and he asked me if I was interested in writing it. That was a lot easier for me to commit time to because, to tell you the truth, writing is something that comes a little bit more naturally and easy to me than the art part. The art is constantly a struggle. It's something that I enjoy, but it's something that is a learning process every time. The writing is too, but the art just takes so much more physical time to actually finish pages. He let me know that Kevin Smith was on it, but he would have to take a break and he asked if I could alternate for him. That sounded great. It was a character that I loved, it was a great offer. I was interested in working with Quesada and Palmiotti in collaboration, and also in-between the Kevin Smith arcs and coordinating that with him. It felt like a really good thing and also, it wasn't something that I had to commit to up front for years or something. I knew there was a place where I'm jumping in and just do my story and fit it with the rest of them. It was something I could do and still keep my full attention on Kabuki.
Westfield: Are you going to be doing more Daredevil stories in the future, or is this a one time thing?
Mack: What we spoke of to start with was I would do a six issue storyline. The idea was Kevin Smith was starting it out and then he's taking a break, and I think the plan is that he's coming back after my six issues. He just said we'll do six issues to start with and if everyone still likes each other and stuff [laughs], and is happy with it, then we have the option to do more in the future.
Westfield: I've heard that the Kingpin is involved in your story. Why did you decide to bring him back?
Mack: He is involved. He's not the star of the story, but there are several reasons why he's involved. There are also a couple brand-new characters that are going to be in the story, and one of the ways they're introduced is through an affiliation of some sort with the Kingpin. And then again, it chronicles the Kingpin's rise to power and what motivates him. When I was first deciding what I was going to do, I just wrote what motivates each character from the issues that I've read in the past and enjoyed. I dug deep into that. We know exactly what motivates Daredevil, but I wanted to show the Kingpin almost from an angle where he's likable and then show how he learns his trade and what motivates him to do what he does. In the process of that, there's a couple of people from his past who play into the storyline that I'm doing now. One of the characters has a relationship with the Kingpin of some sort, and then also has a relationship of some sort with Daredevil. So it made for a very interesting thing. It's one of those characters where Matt Murdock has one kind of relationship with this character and then as Daredevil, he meets her in an adversarial position.
There's also a character from Daredevil's past who comes in right at the beginning. Daredevil's in the wake of recovering from Karen Page's murder and also with quitting the practice of Sharpe, Nelson & Murdock, so there's a sense of rebuilding to start with. He rebuilds his own private practice which is a metaphor for a few other things that happen right at the beginning of the series, right when this other character resurfaces. They rebuild their relationship in a way too.
Westfield: How does your version of Daredevil differ from what Kevin Smith has been doing?
Mack: I appreciate what he's done. I know how it ends and the way it ends makes a lot of the things that've happened work, but one of the things I would always do with Daredevil is keep him grounded in reality, or what appears to be the more contemporary Hell's Kitchen, gritty type of reality. He's a character where, in my stories, he would probably be the only guy who's in any kind of costume. I wouldn't be as comfortable writing Daredevil with him interacting with Doctor Strange or something like that. I think Kevin has done well with him and Mephisto and things like that, but that's something that would never enter my mind to bring into the Daredevil character. From my point of view, he would always be somebody who completely operates both in the gritty, realistic, urban downtown setting and of course, the contrast to that, in the courtroom. And that's the way I see him, and I'd keep him in that environment.
Westfield: Is it odd for you being just the writer?
Mack: No, it's not. I have done this before with my second Kabuki mini-series. There were a lot of secondary characters in Circle of Blood, of which Kabuki was just one of this agency that had other members. When I introduced all the other ones in Masks of the Noh, I wrote from a different point of view for each one. I also thought it made perfect sense to have a different artist draw each one which immediately gives you a sense that they each have their own personality and psychology and atmosphere to the story. That was amazing practice where I was definitely writing a different way, not only for each character, but also for the strengths of the artist.
I'm really looking forward to collaborating with Quesada. One of the motivating factors for me doing this was Quesada and Palmiotti and how they'll put things together. They told me they might want to draw a little bit differently for certain scenes that I write differently and push their limits with that. I'll definitely want to write to the strengths they have and there's a lot of strengths that they have that I don't. They also mentioned in the Kabuki stuff, I often write different scenes in different ways, and then I'll illustrate the scenes in different ways to make each scene have its own atmosphere. There might even be some of that where Quesada sort of stretches the range of the way he can draw.
Westfield: How would you compare the work you're doing on Daredevil to what you do on Kabuki?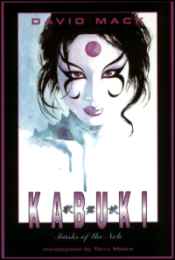 Mack: The biggest way they would connect, and for me I think this is my strength with Kabuki and it might be my strength for Daredevil, is just in terms of character point of view. When I'm writing the character, I really try to immerse myself in that character, to live in their skin for a while. With Daredevil, I'm definitely looking forward to writing from his point of view which is a much different point of view than I write from in Kabuki. I think the process of me defining exactly who the character is by how they relate to themselves and how they relate to other people and, most importantly, how they relate to the world by how they perceive the world. I think that's gonna be the biggest relationship that you see in the writing. I'm fascinated by the way Daredevil has to perceive the world and I'm going to try to push the envelope on that and do some things that haven't been seen before in that realm.
Westfield: Any closing comments?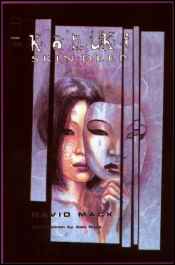 Mack: The Kingpin situation actually has a very climatic end. One of the things I do with Kabuki is whenever I write a character, I try to write very three dimensional characters. From the beginning of a storyline to the end of the storyline, they've grown or they've changed significantly in some way. This is a storyline that does that to all the characters involved. To the Kingpin, even to probably a very great length, the way his situation ends up is really quite different. And also the new characters and Daredevil will have grown significantly at the end. There's also a lot of fun in it. As I mentioned, there's a character from his past, and I mentioned that there's a new female character being introduced. There's a lot of fun in it in the way Matt Murdock has a relationship with some of these characters socially and there might even be a type of Betty and Veronica feel to it. You realize one of these characters has an unrequited love to another one, and another one maybe likes the other one and the reader's thinking he should go for this one or that. I think it'll be very interactive. There are a lot of things in it that all come together in the end. And it ends with a bang.