---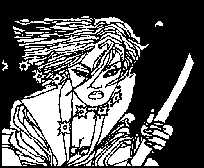 Frank Miller came to the attention of the comics world in the Ď80s with his work on Daredevil, Ronin, and Batman: The Dark Knight Returns. More recently, you can find him working on one of the creator-owned Legend titles published by Dark Horse; Martha Washington with artist Dave Gibbons, Big Guy and Rusty the Boy Robot with Geof Darrow, and his dream project, Sin City. Miller recently spoke with Worlds of Westfield Content Editor, Roger A. Ash, about his latest Sin City story, Family Values.
Westfield: What can you tell us about Sin City: Family Values?
Frank Miller: The first thing that I can say is that itís thick. Itís 126 pages long. I decided that this one really shouldnít be broken up into issues. Itís not that kind of story, itís not episodic enough. Basically, it features Dwight McCarthy and Miho, the assassin, up against the Mafia. The story takes place in one night with Dwight and Miho on a bit of a mysterious mission. And Mihoís on rollerblades. [laughter]
Westfield: Will this go into Mihoís past?
Miller: Nothing new is revealed about her past in this. Iíd say a little more is revealed about her arsenal, but it really doesnít go into her history.
Westfield: Do any other past Sin City characters aside from Dwight and Miho appear?
Miller: Thereís one or two fun little cameos, but as far as any real presence, no. Itís just the two of them.
Westfield: What is the significance behind the title Family Values?
Miller: You never know where a storyís going to come from, and this one began as a joke. I was talking with my brother one day and we were both commenting on how everybody said there were family values, but no one would say what they were. And he made a comment that perhaps we need a minister of family values and it could be John Gotti. And so I got going on that and rolled that around, and it lined up with a story Iíd been working on for a long time. In the course of this story there are several different definitions of family put forth. I donít want to go into it beyond that, because itís got several surprises in it. But the title does make sense, itís not just a sarcastic title. If you think about it, for instance, as strange as it may sound, Dwight and the girls of Old Town are something of a family.
Westfield: One of the interesting things about Sin City are the crossover scenes between stories. Are they planned in advance, or do they just develop?
Miller: It can go either way. Iíve got the entire timeline worked out in broad strokes and I love to dovetail the stories every once in a while to show you that it isnít that big a city and that a lot of these stories are happening more or less on top of each other. But not all of them. I donít want to get into something thatís wound so tight itís a foot note that walks like a comic book. But I love throwing in those little touches, especially when it comes to scenes like the ones in the bar, or sometimes when people pass each other in traffic. I donít feel bound to do that, but itís a lot of fun and itís sort of my way of showing the readers Iíve got some sense of what Iím doing with this. [laughter]
Westfield: What can we expect from Sin City in the future?
Miller: The ideas are just coming hard and fast. Iíve got another series coming up thatíll be kind of a sequel to That Yellow Bastard. It takes place two years later and the lead charactersíll be Nancy Calahan, whoíll now be 21 years old, and Marv. Itís kind of a sequel because emotionally, this story is a result of what happened to Nancy in Yellow Bastard. It also shows her as sheís coming more of age and essentially growing up. Sheís been through a lot.
Westfield: A few years back, I heard you mention that you were planning a story with Goldieís sister. Is that still on the way?
Miller: That is one of the many ones thatís on the back burner. I donít know how other people work, but the way it is for me is Iíve always got a whole bunch of stories that are part way along, but not ready yet. And when one gets ready, I do it. With the Sin City stories, theyíve been getting ready pretty rapidly because I just love working on the series. Because I think about it constantly, the stories get worked on that much harder. Iím kind of doing them as theyíre ready. I can always tell you what the next one is, but I canít really tell you the one after that, because if I do, Iíll probably get it wrong and make a fool of myself. I do that often enough in the letter column, advertising a book that I end up not doing. I do know that the one with Nancy, The Hard Goodbye, is next on deck.
Westfield: Do you have any other upcoming projects youíd like to mention?
Miller: Iím working on Martha Washington Saves the World. The first issue is all done and Iím writing the second one right now. Dave [Gibbon]ís doing another great job on it. Itís probably going to be a three-issue series with a double sized last issue. Itís the next chapter in Martha Washingtonís life, and the titleís one you can take literally: She does save the world.
Westfield: Any plans for more Big Guy and Rusty stories?
Miller: Nothing planned right now. It all really depends on Geof [Darrow]ís schedule, my schedule, and when the mood strikes us. Certainly we had a lot of fun doing that and Geofís always a wild man to work with. [laughter]
Westfield: Is there anything youíd like to add about Sin City: Family Values?
Miller: Iím really, really pleased with the art job I did. It was an exhausting book because Iíve never done this many pages all at once before. I really like the results. One of the major characters in it, by the way, is a 1953 Cadillac Eldorado. You might even call it the love interest, because once Dwight sees that car, heís gotta have it. Thereís an awful lot of Miho in it. You get to see a lot of her tricks, and I guess Iíve got to admit that the little outfit sheís in in this story somehow has more room in it than Batmanís utility belt. I donít know where she puts all that stuff. [laughter]
I donít really want to say more, because I think that you can get too much information ahead of time. Seeing how things are advertised and revealed these days, Iím often kind of startled because I think back to when I did the story where Elektra was killed. What was going to happen was actually a mystery. Nowadays, I think it would have DEATH OF A MAJOR CHARACTER! in big letters across it in all the ads and everyone would know from the beginning that she was going to die. Whereís the suspense in that? It seems like things have gotten a little too predictable out there. So if Iím a little cagey, itís because I donít like to give my punchlines away. [laughter]