---
Bob Burden is probably best known as the creator of the Flaming Carrot, but he has also created All Robot Comics, Adventures in Limbo, and wrote the Gumby Summer Fun Special which was illustrated by Art Adams. This month, Dark Horse is releasing Flaming Carrot: Man of Mystery, the first volume in a series of trade paperbacks collecting early Flaming Carrot stories, and a new Flaming Carrot t-shirt and lighter. Burden recently spoke with Worlds of Westfield Content Editor Roger A. Ash about Flaming Carrot and his upcoming projects.
Westfield: For those unfamiliar with Flaming Carrot, how would you describe the book?
Bob Burden: Flaming Carrot is a second-string, mill town, blue collar superhero living in Iron City, in the rust belt of the Northeast. He has no super powers and is stupid. When he gets in a spot, he just shoots his way out in a hail of gunfire. It's kind of a Monty Python version of the superhero, but it's not a satire. Zen-stupid.
Westfield: How did the concept of Flaming Carrot come about?
Burden: I wanted to do a surrealist work. At a glance, Flaming Carrot looked like a superhero and sounded like one. If comics were based on "westerns" instead of "superheroes" I would have done a surrealist western, ya know, The Aluminum Cowboy or something. Retailers only glance at something for a fraction of a second while ordering. The book got out there. Over time, it caught on, creating an undying respect and faith in the comic readers today.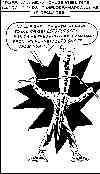 Westfield: So it was somewhat of a lark?
Burden: Flaming Carrot was just about the dumbest idea for a superhero a person could came up with. But it had a certain ring to it. So I just ran with it. It was insane, yes. But I was able to escape from all the formulas and foundations of the comic genre. I inadvertently forced myself to carry the book with storytelling, characterization and a kind of fun I can never seem to get enough of.
Westfield: The stories collected in the trade paperback have been out of print for quite some time. Why did you finally decide to collect them?
Burden: I started in comics as a reader, collector and to some extent, a dealer. I understood the hobby from that end. Almost no one else in comic production or publishing really has my particular perception or grasp of the comics market. My decision all these years to not reprint was always controversial. I wanted to preserve the collectable integrity of my title and felt reprinting would hurt. We basically decided that it had been long enough and we're going to go for it. We're not going to be reprinting the covers, so that kind of preserves some of the integrity of the first printing. We were going to launch the Mysterymen, so we figured it would be a good time to re-launch the Carrot and get that material out there. Actually, we planned to start the Carrot stuff going after the Mysterymen was off the ground but with this market, I feel every dollar I can put in the pockets of the retailers and distributors will help.
Westfield: What is going to be collected in the trades?
Burden: From the 1983 Renegade series on. None of the earlier Visions stories or 1981 Flaming Carrot oversize will be reprinted. The first volume will have Flaming Carrot #1, 2, 3 and the Robot Comics plus additional material. The second volume will be Flaming Carrot #4-11 which is almost one complete story. And then the third volume will be Flaming Carrot #12-18 and that's going to be called Flaming Carrot's Greatest Hits.
Westfield: In information we've received from Dark Horse and in a text piece in the Flaming Carrot Annual, you say the marketplace needs Flaming Carrot now. Why?
Burden: The stories. I'm not a great illustrator, but I think I spit out a few good lines here and there. We could all use a good laugh right now, don't you think?

Westfield: Are there any plans for new Flaming Carrot stories?
Burden: Yeah. In the back of the Annual there was a preview page of Mr. Carrot Goes To Washington. The Contract With America is at the frame shop to be framed and it gets lost. Was it stolen? Did it blow out the window? Also we're going to be putting a new story in each one of the collected volumes.
Westfield: What other projects do you have coming up?
Burden: We're working on the Mysterymen and that should be out this summer or fall. There's a preview story in the Flaming Carrot Annual. The main flagship title will be The Mysterymen, and there will be two supporting titles. All Villain Comics will be like a Pulp Fiction version of a superhero story. Everybody loves villains from Doctor Doom to Moriarty to Billy the Kid. People also love origin stories so we're doing a Mysterymen Secret Origins, and there will be at least 20 or 30 issues of that. We're going to start the three titles quarterly, so during the launch, the first three months, there's going to be Mysterymen #1, All Villains #1 and Secret Origins #1. The fourth month, we'll come out with Mysterymen #2. That way, the retailers will be able to see what the first issue is like and how well it sells before they order the second issue. You have to have a book out monthly and at the same time, the retailers are ordering #3 by the time #1 comes out so there's a slump around #2, 3, or 4.
Westfield: You also mentioned in the Annual that you will be just writing these stories. Who do you have lined up to do the art or do you have anyone yet?
Burden: With the backing of Dark Horse I've been able to line up some incredibility good artists. I'm doing thumbnails, ya know, little layouts but that's just to get them started easy. One of the most important aspects of The Mysterymen is the first ten issues are going to be self contained stories, ya know, so someone who maybe missed the first few issues can pick up the series with #5 or #7 and not have to worry about what's going on and not be able to say "Oh, I'll wait till this becomes a collected volume." There are going to be no second printings, and we're not going to collect them for a year or two.