A Gander at Gladstone
by Roger Ash
By 1985, Disney comics had been missing from American comic racks for six years. Their publisher, Western/Whitman, gave up the Disney license. No longer was there an inexpensive way for fans of Disney comics to read adventures of their favorite characters, such as Donald Duck stories by the legendary Duck Man, Carl Barks. Barks created Uncle Scrooge, Gyro Gearloose, Flintheart Glomgold, and many others, and established the basis for the Disney Duck universe that is still in place to this day. Enter Gladstone Comics.
Gladstone was the brainchild of Bruce Hamilton. "Bruce Hamilton and Russ Cochran's first Disney license was for The Fine Art of Walt Disney's Donald Duck, a lavish coffee table book that featured all of Carl Barks' Disney-themed oil paintings that had been produced up to that time (1980)," says John Clark, associate editor at Gladstone and current editor-in-chief of Gemstone's Disney comics. "Disney was so impressed with that book that Hamilton and Cochran were able to get a license to produce a series of lithographs based upon oil paintings newly commissioned from Barks."
Their company, called Another Rainbow, also published The Carl Barks Library, a set of 30 oversized hardcovers in ten slipcases that featured the complete Disney stories by Carl Barks, along with essays on Barks and the comics themselves. It was from the people at Another Rainbow that Hamilton brought together the team for Gladstone, including editor-in-chief Byron Erickson and associate editors John Clark and Geoffrey Blum.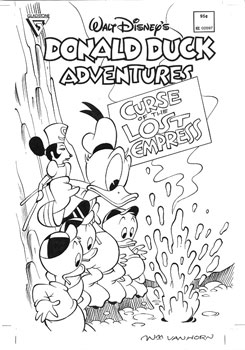 Original cover art to Gladstone's Donald Duck Adventures #17 (Nov. 1989), by William Van Horn. Courtesy of Heritage Comics Auctions (www.ha.com).

"On a visit to Disney in Burbank, Bruce Hamilton found out that Western Publishing (who had licensed the rights to publish Disney comics for almost 50 years) was giving up their license-their comics weren't profitable anymore," relates Erickson. "Bruce figured that a small company with a low overhead could succeed where Western had failed, so he immediately started putting together a proposal to apply for the license, although the Disney executive in charge of Another Rainbow's account-a nice man named Wayne Morris-didn't think we had a chance. To make a long story short, Bruce's eventual proposal was accepted (although that might be because none of the other comics publishers were sufficiently interested) and Another Rainbow was given a three-year license."

The name "Gladstone" was chosen as the publisher's name because of the character Gladstone Gander's legendary good luck. The Gladstone books reprinted classic Duck stories by Carl Barks; Donald Duck newspaper strips by Al Taliaferro; Floyd Gottfredson and Paul Murray Mickey Mouse stories; and, for the first time in America, many stories produced for the European market by artists including Daan Jippes, Freddy Milton, and Romano Scarpa. Gladstone's titles included Uncle Scrooge, Donald Duck, DuckTales, Mickey and Donald, Walt Disney's Comics and Stories, and others.

The job of selecting which European stories to run fell to Erickson. "I chose, at first, what was recommended by knowledgeable fans (the Dutch Jippes stories, for example)," Erickson says, "but mostly it was a matter of going through the various foreign magazines we started receiving and ordering proofs of stories that looked good (I couldn't read them, mind you, so my orders were based just on looking at the pictures). It was always interesting to read the rudimentary English dialogue that eventually came with the proofs. Man! Some stories were not at all what I expected. Many stories could be used with just minor adjustments to the dialogue. Others needed to be extensively rewritten to add character or humor. And in some cases, we wrote a completely new story to go with the artwork because the original story was stupid beyond belief!"

Erickson also scripted some of the European stories, as did Geoffrey Blum. According to Blum, the English dialogue they were sent weren't translations: "The impression I had was that the stories were written in English, that serving as a lingua franca among the various European publishers who then hired their own translators to cast the comics they selected into their particular language and idiom. At the time of Gladstone One, I was told that many of the scripts were cranked out by moonlighting BBC hacks trying to scratch up an extra shilling. Since the writers knew the stories were not going to see print in English, they took no special care to polish their dialogue."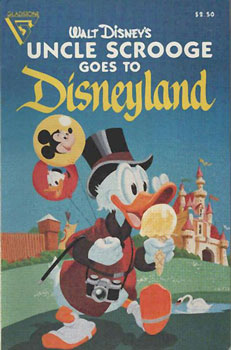 In addition to standard comics, Gladstone also launched a popular line of albums that featured oversized reprints of classic stories. They also had a line of digests that didn't fare so well. "When we began production of the digests, we learned from our distributor that Archie [Comics] had sewn up all of the digest pockets for comics at supermarkets and drug stores, and that we would fail with digests if we couldn't get into those locations," says John Clark. "Bruce struck a deal with Archie to co-distribute the first of our digests, Uncle Scrooge Goes to Disneyland and Disneyland Birthday Party (both 1985), and those were successful, but subsequent titles that Archie was not involved with did poorly. And that seems to be the case to this day. Exactly why that is, I don't know. Perhaps because the books get 'lost' to consumers if they're not right there in your face, and the direct market has never been big for digests."
If there was a "look" to the early Gladstone comics, one could argue that Daan Jippes provided it, as he did most of covers for the first two years of Gladstone's existence.
"At the time of Gladstone's start with the Disney comics, I was employed at the Walt Disney Consumer Products Division in Burbank, at Publications, under Greg Crosby," recalls Jippes. "I had met with Bruce Hamilton earlier on. On the occasion of one of Bruce's visits to the Studios, he proposed I should give it a shot, doing Gladstone's covers."
Erickson says that Jippes was a perfect choice for Gladstone's cover artist because "he's the world's best Disney standard character artist."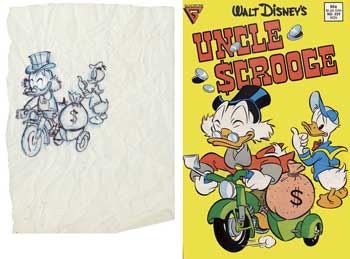 TM & © 2007 Walt Disney. The Daan Jippes-sketched prelim for the cover to Uncle Scrooge #223 (Nov. 1987). Note Jippes' changes in Scrooge's facial expressions in the published version.

Jippes received the cover orders from Erickson for either a gag cover or a story specific cover, but the details were left up to him. "The gags were 99% mine. The same goes for the ideas behind the story-related covers."

Besides having a style of his own, Jippes was also adept at aping the styles of Barks, Gottfredson, and Walt Kelly: "If a given cover acquired a Barks- or Gottfredson-flavor, that was always dictated by the style of the artist of the story inside the comic," says Jippes.

"Whenever a gag-cover got a Walt Kelly approach, that was only when I felt it 'suitable'; what exactly supplied the 'trigger' for such an inspiration I can honestly say I still don't know," Jippes reveals. "A bout of subconscious association, perhaps?"

Eventually, Jippes decided that it was time to step down as cover artist. "My submitted ideas for requested covers took the shape of small, but concise, designs that I slapped some colors on, then sent those off to Prescott, Arizona (the Another Rainbow residence), by regular mail. Within a week I would get a phone call from Byron, with Bruce's verdict.

"The last six months of my cover-artist tenure with them, it happened way too often that ideas were dismissed without proper or constructive criticism; too often just for arbitrary reasons. I could only expect financial compensation for those efforts after turning in completed, inked covers. So all these submitted small masterpieces, for prospective covers that never would see the light of day, became, as far as I was concerned, a waste of my time.

"Bruce, however, disagreed with that point of view, so we parted ways."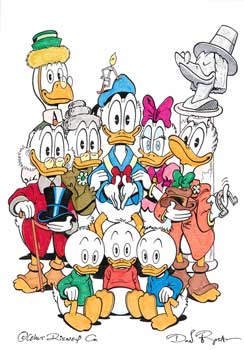 TM & © 2007 Walt Disney. This undated Duck Family portrait by Don Rosa features all your feathered favorites, including Duckburg founder Cornelius Coot (seen here as the bust).

Coincidentally, Jippes was indirectly responsible for Gladstone publishing their first original story. "I just happened to spot a Gladstone comic," says creator Don Rosa. "I didn't know what Gladstone was, but it was a Disney comic. It had a Carl Barks cover on it that I had never seen before, which was impossible because I had full sets of all those old comics. It turned out that it was a cover by Daan Jippes. I bought it. This was a Disney comic book that had articles in it about the history and about the people who wrote and drew the comics. This was the first time, not just in America, but virtually anyplace in the world, that a Disney publisher showed any respect for the people who actually created the stories and for the history of the material.

"Another few months went by to make sure I saw these were still coming out, and finally I called up the editor, Byron Erickson, and told him that I was the only American who was born to write and draw Uncle Scrooge comics. It was my manifest destiny. I'd always known that my entire life.

"I'd known Bruce Hamilton at that point for maybe 15 years from comic conventions. I hadn't met Byron, but he knew of me because of all the work I'd done writing in fanzines and illustrating my own articles. So Byron said, 'Go ahead.' One day, I never knew I'd ever do anything other than run my family construction company, and the next day it was my assignment to write and draw an Uncle Scrooge adventure, which was the dream of my lifetime."

That first story, "The Son of the Sun," appeared in Uncle Scrooge #219 (July 1987) and was nominated for a Harvey Award in 1988 for Best Single Issue.

Of the stories he did at this time, Rosa singles out two as ones he really enjoyed working on because they were sequels to Barks stories: We'll end this excerpt on a cliffhanger, but you can discover Don Rosa's favorites-as well as comments from William Van Horn and John Lustig, and more art by Jippes, Rosa, and Van Horn-in BACK ISSUE #23!