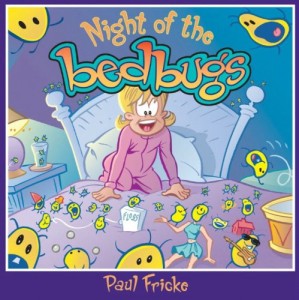 On Saturday, April 2 the westside location will be welcoming creator Paul Fricke from 1 – 4pm to promote his newest children's book Night of the Bedbugs. Paul Fricke is an illustrator, author and comic book creator of twenty-five years from Minnesota who co-created the 80's comic Trollords.
Night of the Bedbugs is a colorful, fun and engaging read.  When a little girl's mother wishes her goodnight and says "Don't let the bedbugs bite," she gets spooked. But her bedtime fears are calmed when a friendly bedbug and his pals join her for a pajama party, singing her to sleep with a soft lullaby…
Be sure to arrive early. From 1 – 2 pm Paul Fricke will be entertaining the crowd by: showing some music videos; doing a book reading and some bedbug juggling; conducting a Cartoon Workshop (how to draw bedbugs, facial features and expressions, create your own characters & stories) and a sing-along before signing copies of his book.
We are making this the first in what we hope will be many more events in our new Westfield Comics Kids Club. Stop in for more information and some fun!