Westfield's Wayne Markley reviews some recent comics he's been enjoying including Image's Epic Kill, IDW's Godzilla, and DC's Nightwing.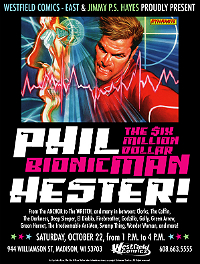 To celebrate the release of Dynamite Entertainment's Bionic Man series (issues #1 and #2 are available now), Phil Hester (who is co-scripting the book with Kevin Smith) will be chatting with fans, sketching free head sketches, illustrating 11″ by 14″ black & white commissions ($80 each), and have original artwork available for sale at our East side store on Saturday, October 22, from 1 p.m. through 4 p.m.!
Phil currently writes The Darkness for Top Cow Productions/Image Comics and has recently written Wonder Woman: Odyssey for DC Comics and penciled Godzilla for IDW Publishing. For an exhaustive list of work from The Anchor to The Wretch, check out his Comic Book DB page.
For a larger version of the flyer, click here!
Please feel free to invite your friends using the Facebook event page!
This event is proudly presented in association with Jimmy P.S. Hayes!!!