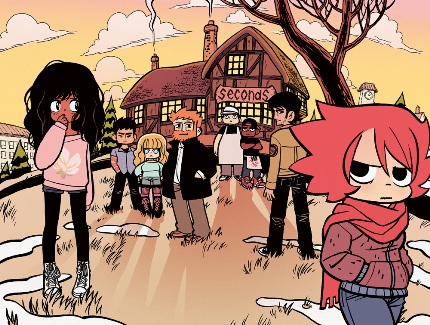 *Well, we now know a "little" more about Bryan Lee O'Malley's Seconds, his followup to Scott Pilgrim. It's a self-contained graphic novel; it should be out in about a year from now and we've got some cool artwork of the characters! Stay Tuned!
*For all you really patient readers out there, Image has finally announced the Walking Dead Compendium Volume 2 (issues #49-96) for October 3 and here's a promo poster for Season 3 on AMC featuring The Governor and Michonne!
*Marvel has announced the five-issue mini-series Thanos: Son of Titan discerning the origin of the Mad God beginning this October !
*DC has also announced for October the six-issue anthology series Joe Kubert Presents featuring new work by the legendary artist on characters like Hawkman, Angel & The Ape and Sgt Rock!
*Hermes Press will be publishing an all-new Buck Rogers comic series written and drawn by Howard Chaykin!
*Even if they never make another Hellboy movie, Ron Perlman DID put the makeup on one more time for a good cause!
*There's new Sailor Moon anime in the works for next summer!
*Animator and storyboard artist Robb Pratt has released another homemade Superman short entitled Bizarro Classic!