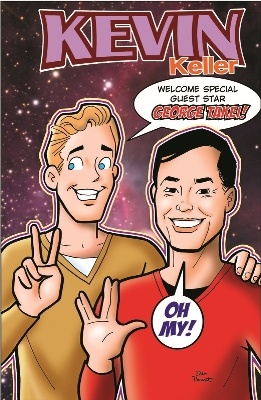 *George Takei, Mr. Sulu of Star Trek fan will be guest-starring in this November's Kevin Keller #6 from Archie Comics. It doesn't quite have the shock value of the time that The Punisher showed up in Riverdale, but it's still pretty cool.
*DC Entertainment has declared Thursday, July 19 as The Dark Knight Rises Day to celebrate the opening of Christopher Nolan's final bat-film opening in theaters and IMAX ® on Friday, July 20.   Fans who visit their local comic book retailer on July 19 will receive a free, special edition comic book featuring several exclusive previews of current and upcoming Batman comic books and graphic novels and Batman buttons on a first-come, first-served basis.
*Ed Brubaker will be stepping down as writer on Captain America with issue #19, but will continue on Winter Soldier for the near future.
*DC is finally releasing Doc Savage #18, the final issue and 2nd part of a 2-part story that never saw the light of day when DC pulled the plug on their Firstwave pulp line last year. However, the issue is only available for Digital Download. Hey, at least you can read it!
*Even though this week finds Alan Moore finishing up his latest League of Extraordinary Gentlemen project, he has already announced a new one for 2013 called Nemo: Heart of Ice, starring Pirate Jenny.
*No more Akbar and Jeff! Matt Groening has decided to end his Life In Hell comic strip after 30 years.