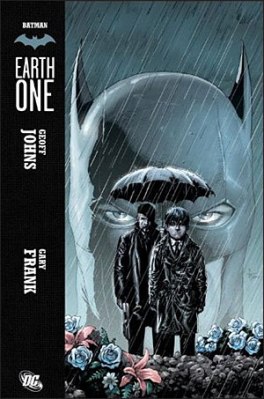 Please Note: New product WILL be available on Wednesday, July 4, but our stores will be open limited hours due to the 4th of July holiday. The Westside location will be open 10am – 6pm and the Willy Street location will be open 11am – 5pm.
Highlights This Week: The second release in DC's Earth One series of graphic novels (think Marvel's Ultimate line, but just once a year) Batman: Earth One by Geoff Johns and Gary Frank rethinks the origin of the Dark Knight and expands on what happened after the murder of Bruce Wayne's parents; Avengers VS X-Men #7 (of 12) finds the Phoenix-empowered Cyclops changing the game with the words "No More Avengers" and this week's single tie-in can be found in Uncanny X-Men #15; DC gives the heroes of Eternia to the creative team of James Robinson and Philip Tan with the all-new He-Man and the Masters of the Universe #1 (of 6); Roger Langridge's unpublished work from Boom! Studios is released by Marvel as The Muppets #1 (of 4); the late Steve Gerber and artist Kevin Nowlan's 20-years in the making Infernal Man-Thing #1 (of 3); The Cape: 1969 #1 (of 4) is Joe Hill's prequel to last year's Eisner Award-nominated hit and Wolverine #310 begins Jeph Loeb and Simone Bianchi's sequel to their Evolution storyline AND features the return of the previously presumed dead Sabretooth!
Novelty Highlights: Adventure Time 5-Inch Finn & Jake Action Figures and Onward Charge T-Shirt; DC Heroclix Dark Knight Rises Starter Set; DC Super Heroes 3-Piece Die Cut PVC Mug Set; Doctor Who Sticky Note Set; Amazing Spider-Man Movie Series 1 Trading Cards and Star Trek 4-Piece 16 oz. Glass Set and Wood Coaster Sets!
DC Comics
Image Comics
Marvel Comics
Other Publishers