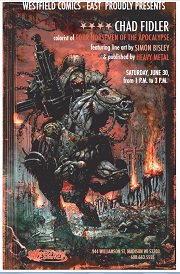 Colorist Chad Fidler will be at our East side store signing copies of the first book of Four Horsemen of the Apocalypse, the new graphic novel series featuring lineart by Simon Bisley & published by Heavy Metal!
Chad's wondrous coloring has also graced such books as Athena Voltaire, Territory 51, Top Cow's Witchblade and Hunter-Killer, and numerous titles from Marvel Comics! You can check out some of his work on his site chadfidler.com.
Would you like a handy way to invite your friends? Use the Facebook event page!